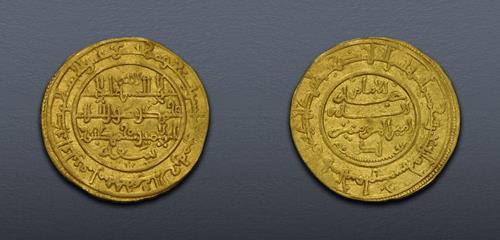 Kings of Murcia (post-Almoravid). Muhammad ibn Sa'd. AH 542-567 / AD 1147-1171. AV Dinar (24.7mm, 3.83g, 1h). Balansiya (Valencia) mint. Dated AH 545 / AD 1150/1.
CNG Islamic Auction 1
Lot: 145. Estimated: $ 10 000
Spain and North Africa, Gold
Sold For $ 7 000. This amount does not include the buyer's fee.
Kings of Murcia (post-Almoravid). Muhammad ibn Sa'd. AH 542-567 / AD 1147-1171. AV Dinar (24.7mm, 3.83g, 1h). Balansiya (Valencia) mint. Dated AH 545 / AD 1150/1. Obverse field: Muhammad ibn / Sa'd in fourth and fifth lines Album 407.1 RRR; cf Aureo & Calico (Barcelona) Auction 275 (10 March 2016), lot 22. Good VF. Extremely rare, and apparently a unique variety.

Ex Marti Hervera & Soler y Llach (Barcelona) auction 1115 (15 October 2020), lot 352.

Muhammad ibn Sa'd ibn Mardanish, known from contemporary Christian sources as Rex Lupus the 'Wolf King', took advantage of the decline of Almoravid control in the region to establish himself as King of Murcia in AH 542 / AD 1147/8.  The first months of his reign saw him suppress a rebellion led by a relative, Yusuf b. Hilal, whom Muhammad ibn Sa'd defeated and captured in AH 543.  Muhammad threatened to blind his kinsman unless he agreed to surrender his fortress of Moratalla.  Yusuf refused, and Muhammad accordingly ordered for his right eye to be gouged out.  Muhammad now approached Yusuf's wife, demanding that she should surrender Moratalla unless she wished to see her husband blinded in front of her.  Showing greater fortitude than sympathy for Yusuf's plight, she likewise refused to obey Muhammad's order, Muhammad duly blinded Yusuf and threw him into prison where, perhaps unsurprisingly, he died later in AH 543.

In AH 544 / AD 1149/50, it is recorded that Muhammad signed a treaty with the Republic of Genoa, which had established outposts at Tortosa and Almeria.  Under this agreement, which was to last for ten years, he undertook to pay 15,000 Almoravid dinars as tribute (although the treaty also stipulates that this sum was to be paid in a combination of coins and precious silks), and also to permit the Genoese to establish trading posts at Denia and Valencia. Muhammad struck very few dinars at Valencia, and it is possible that the coin offered here was struck as a result of his treaty with the Genoese. This coin, on which the whole of the reverse field and part of the obverse field are rendered in handsome naskhi script to compliment the Kufic of the margins, appears to be a unique variety; the specimen of this mint and date sold by Aureo & Calico in 2016 bears Kufic script only.


The final winners of all CNG Islamic Auction 1 lots will be determined at the live online sale that will be held on 25 May 2022, beginning at 10:00 AM ET.

Winning bids are subject to a 20% buyer's fee for bids placed on this website and 22.50% for all others.

We recognize that our users may have various Internet Browsers and Operating Systems. We like our visitors to have the best possible experience when using our bidding platform. However, we do recognize that it is impossible to develop applications that work identically, efficiently and effectively on all web browsers. The CNG bidding platform supports the latest stable major version and the stable previous version of Mozilla Firefox and Chrome.