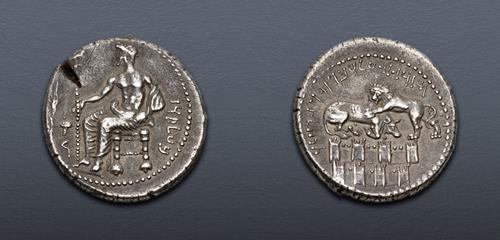 CILICIA, Tarsos. Mazaios. Satrap of Cilicia, 361/0-334 BC. AR Stater (23.5mm, 10.89 g, 7h).
Electronic Auction 519
Lot: 196. Estimated: $ 300
Greek, Silver
Sold For $ 800. This amount does not include the buyer's fee.
CILICIA, Tarsos. Mazaios. Satrap of Cilicia, 361/0-334 BC. AR Stater (23.5mm, 10.89 g, 7h). Baal of Tarsos seated left, holding holding eagle-tipped scepter; grain ear, grape-bunch, and Aramaic R in left field / MZDY ZY 'BRNHR' W ḤLK ("Mazaios Governor of Transeuphrates and Cilicia" in Aramaic) above, lion bringing down bull above a pair of crenellated walls, each with four towers. Casabonne Series 4, Group A; SNG BN –; SNG Levante 115. Toned, light scratches and marks under tone, test cut on obverse. VF.

The Aramaic inscription on the reverse of this stater has prompted Biblical coin researcher David Hendin to reconsider the meaning of this coin type. It traditionally is translated as "Mazaios governor of Transeuphrates and Cilicia," but Hendin translates it somewhat differently as "Mazaios who is over Eber Nahara and Cilicia." The similarity of this inscription and a descriptive phrase used in two books of the Old Testament (which was codified at approximately the time this coin was struck) has led to Hendin's suggestion that the walls on this coin represent the ones encompassing Jerusalem, which less than a century before had been rebuilt by Nehemiah, as related in the Books of Ezra and Nehemiah. (A fuller discussion of the subject is presented on pages 100-103 of the 4th edition of Hendin's Guide to Biblical Coins.)

Closing Date and Time: 29 June 2022 at 11:05:00 ET.

All winning bids are subject to an 18% buyer's fee.