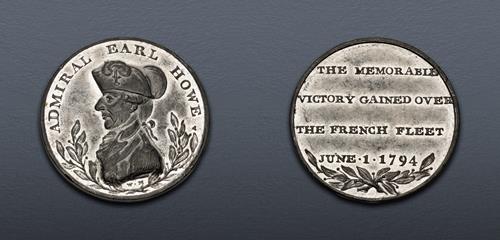 Earl Howe and the Battle of the First of June. WM Medal (34mm, 13.24 g, 12h). By W. Mossop. Dated 1 June 1794.
Keystone Auction 7 – The J. Eric Engstrom Collection of Admiral Nelson Medals
Lot: 111. Estimated: $ 100
Other Naval Medals, White Metal
Sold For $ 60. This amount does not include the buyer's fee.
Earl Howe and the Battle of the First of June. WM Medal (34mm, 13.24 g, 12h). By W. Mossop. Dated 1 June 1794. ADMIRAL EARL HOWE, uniformed bust left, wearing bicorn, set on olive branches / THE MEMORABLE/ VICTORY GAINED OVER/ THE FRENCH FLEET/ JUNE 1 1794; olive branches below. BHM 384; Eimer –. Toned, light scratches. EF.

From the J. Eric Engstrom Collection.

Richard Howe, 1st Earl Howe (1726-1799), came from an illustrious military family with connections to the American colonies. His elder brother, George, 3rd Viscount Howe, was killed in a skirmish the day before the Battle of Fort Carillon (later renamed Ticonderoga) during the French and Indian War. Richard's younger brother, William, 5th Viscount Howe, assisted in the capture of Quebec in 1759 under General James Wolfe. William commanded the British forces against the Americans at the Battle of Bunker Hill in 1775. Richard, too, was involved in the Seven Years' War and in the American Revolution. As an officer in the Royal Navy, he provided naval support against the French and, although sympathetic to the American colonists, helped in imposing naval blockades against New York City and Philadelphia.

Between the end of the American Revolution and the War of the First Coalition, Admiral Howe participated in the relief of Gibraltar and served as First Lord of the Admiralty. At the start of the War of the First Coalition (1793-1797), he was given command of the Channel fleet. On 1 June 1794, he commanded the first and largest fleet action between Great Britain and the First French Republic. Attempting to prevent a French grain convoy from America from reaching its destination, Howe engaged the French Atlantic Fleet at Ushant, delivering a severe tactical defeat on the French – who were the strategic winners, since the grain convoy made it safely to port. Once it had returned to port following the battle, the British fleet was treated to a royal visit from George III and the royal household, while in London, the celebration included the illumination of the entire city for three consecutive nights.

Closing Date and Time: 6 July 2022 at 10:36:40 ET.



Winning bids are subject to a 20% buyer's fee for bids placed on this website, 22.50% for all others.