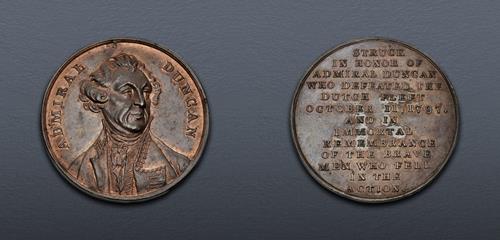 Adam Duncan and the Battle of Camperdown. Æ Medal (37mm, 20.65 g, 12h). By Hancock. Dated 11 October 1797.
Keystone Auction 7 – The J. Eric Engstrom Collection of Admiral Nelson Medals
Lot: 113.
Other Naval Medals, Bronze
Estimate: $ 75
Adam Duncan and the Battle of Camperdown. Æ Medal (37mm, 20.65 g, 12h). By Hancock. Dated 11 October 1797. ADMIRAL DUNCAN, unformed bust facing slightly right / STRUCK/ IN HONOR OF/ ADMIRAL DUNCAN/ WHO DEFEATED THE/ DUTCH FLEET/ OCTOBER 11, 1797./ AND IN/ IMMORTAL/ REMEMBRANCE/ OF THE BRAVE/ MEN WHO FELL/ IN THE/ ACTION. BHM 429; Eimer –. Red-brown surfaces. EF.

From the J. Eric Engstrom Collection.

In the naval Battle of Camperdown, an important engagement of the War of the First Coalition, the newly created Batavian Republic's navy under Jan de Winter fought the British North Sea Fleet under Adam Duncan. Part of the French Revolutionary Wars, the Dutch Republic had been captured by the French Republic and reorganized as the Batavian Republic, effectively a satellite state of the French. The French had attempted to rendezvous with the Dutch fleet, but persistent British efforts had managed to keep the two apart. However, when Duncan lifted his blockade of the Dutch to resupply, they sortied and proceeded to raid in the North Sea before being caught by Duncan at Camperdown. After a hard-fought engagement with many casualties on both sides, the British succeeded in capturing nine ships of the line and two frigates, with the rest fleeing the site of the battle. News of the victory was met with widespread jubilation in Britain. Duncan was made both a viscount and baron and other officers were made baronets and knighted. Pensions, presentation swords, and medals were also given out to the participants as the nation rejoiced in the good news following the numerous naval mutinies that had plagued the fleet. The battle as considered at the time as the greatest British victory over an equal force and the sound defeat of the Dutch fleet likely kept the French from achieving the naval forces they would have needed for Napoleon to invade Britain in 1798. Medals made to commemorate the battle demonstrated Britain's renewed patriotism and pride in their navy following the disastrous mutinies earlier in 1797.

Closing Date and Time: 6 July 2022 at 10:37:20 ET.



Winning bids are subject to a 20% buyer's fee for bids placed on this website, 22.50% for all others.