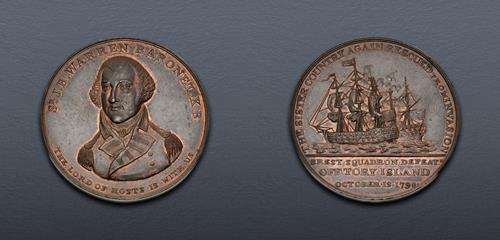 Admiral Warren and the Battle of Tory Island. Æ Medal (38mm, 30.44 g, 6h). By T. Wyon, Sr.. Dated 12 October 1798.
Keystone Auction 7 – The J. Eric Engstrom Collection of Admiral Nelson Medals
Lot: 116. Estimated: $ 150
Other Naval Medals, Bronze
Sold For $ 225. This amount does not include the buyer's fee.
Admiral Warren and the Battle of Tory Island. Æ Medal (38mm, 30.44 g, 6h). By T. Wyon, Sr.. Dated 12 October 1798. SR J. B. WARREN BARONET. KB, uniformed bust facing slightly left; in exergue, THE LORD OF HOSTS IS WITH US / THE SISTER COUNTRY AGAIN RESCUED FROM INVASION, naval engagement; in three lines in exergue, BREST SQUADRON DEFEATD/ OFF TORY ISLAND/ OCTOBER · 12 · 1798 ·. BHM 456; Eimer 896. Red brown surfaces. Superb EF.

From the J. Eric Engstrom Collection.

The Battle of Tory Island took place on 12 October 1798, off the coast of County Donegal in Ireland. It was a part of the wider French Revolutionary Wars with the French in this case trying to bring the struggle home to the British in Ireland. Another French force had already successfully landed under general Humbert and proceeded to join the rebel Irish forces in their struggle against the British. However, by the time of the Battle of Tory Island, the French invaders and their Irish allies had already been defeated and captured. Having already allowed one landing, the British were determined not to allow another and scout ships detected the invasion force under Jean Bompart consisting of one ship of the line and nine frigates. The British commander Sir John Warren pursued with his much larger force of three ships of the line and five frigates, picking the French ships off as they fled. Only three French frigates managed to escape, with the rest captured along with the soldiers stationed aboard them. The battle marked the last attempt by any continental power to land troops onto the shores of Ireland. The battle was later recognized in 1847 with a clasp stating, "12th October 1798" attached to the Naval General Service Medal.

Closing Date and Time: 6 July 2022 at 10:38:20 ET.



Winning bids are subject to a 20% buyer's fee for bids placed on this website, 22.50% for all others.