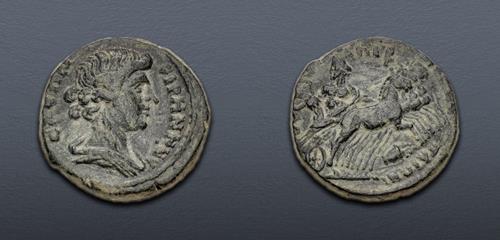 LYDIA, Nysa. Time of the Antonines, AD 138-192. Æ (18mm, 5.97 g, 5h).
Electronic Auction 523
Lot: 323. Estimated: $ 100
Roman Provincial, Bronze
Sold For $ 250. This amount does not include the buyer's fee.
LYDIA, Nysa. Time of the Antonines, AD 138-192. Æ (18mm, 5.97 g, 5h). Draped bust of Eirene right / The Abduction of Persephone: Hades in galloping quadriga right, carrying off struggling Persephone; below horses; overturned flower basket. Kurth 48; Regling, Nysa 43; RPC IV.2 Online 1487. Black patina with blue-green highlights. Good VF. Very rare, only six in RPC, one in CoinArchives.

Hades fell in love with Persephone, the daughter of Demeter, and asked Zeus for permission to marry her. Fearing to offend his eldest brother by a downright refusal but also knowing that Demeter would not forgive him if Persephone were committed to the underworld, Zeus diplomatically answered that he could neither give nor withhold his consent. This act emboldened Hades to abduct Persephone as she was picking flowers in a meadow and carry her away in his horse-drawn chariot to the underworld.

Closing Date and Time: 7 September 2022 at 11:47:20 ET.

All winning bids are subject to an 20% buyer's fee.