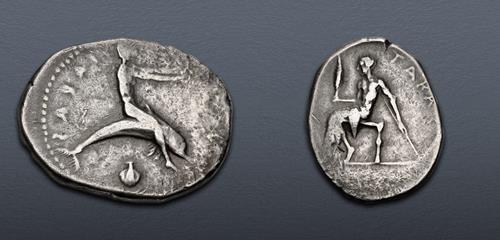 CALABRIA, Tarentum. Circa 450-440 BC. AR Nomos (26mm, 7.85 g, 3h). VF.
CNG Feature Auction 121
Lot: 19. Estimated: $ 750
Greek, Coin-in-Hand Video, Silver
Sold For $ 550. This amount does not include the buyer's fee.
CALABRIA, Tarentum. Circa 450-440 BC. AR Nomos (26mm, 7.85 g, 3h). Taras riding dolphin right, both arms outstretched; cockle shell below / Oikistes seated left, holding distaff and scepter. Fischer-Bossert Group 12, 171 (V83/R120); Vlasto 185 (same obv. die); HN Italy 845; McClean 552 (same dies). Toned, some weakness to strike. VF.

From the JTB Collection. Ex Mark and Lottie Salton Collection.

The city of Tarentum was founded in the late 8th century BC by Spartan colonists on the north coast of the gulf of the same name, on a rocky islet at the entrance to the only secure harbor. It was Sparta's only colony and maintained close relations with the mother city. The official founder of the city was believed to be the Spartan leader Phalanthos. Ancient tradition, however, tells how Taras, the son of Poseidon and a local nymph, Satyra, was miraculously saved from a shipwreck by his father, who sent a dolphin on whose back he was carried to shore, at which spot he founded a city.

Blessed with fertile land, Tarentum became famous for olives and sheep. It possessed a fine harbor, great fisheries and profitable exports of wool, purple, and pottery. It adopted a democratic form of government circa 475 BC, and thereafter became the leading Greek city in southern Italy. Its success led to continual difficulties with its neighbor cities, though, and on four occasions Tarentum required expeditions from Greece to help overcome its aggressors. The last of these expeditions was led by the famed Epeirote, Pyrrhos. Following his withdrawal from the city, Tarentum was occupied by the Romans.

It was not until late in the 6th century that Tarentum felt the need to produce coinage. It did so by copying the broad, thin fabric with incuse reverse type already in use by Metapontum, Sybaris, Poseidonia, Kaulonia, and Kroton. Tarentum quickly grew in power and wealth. As with many cities that began coinage at the time, the types depicted relate to the city's foundation, both in its historical and mythological forms. Taras' prosperity is exemplified by its vast coinage, which was continuous from circa 510 BC until the end of the Second Punic War.

The final winners of all CNG Feature Auction 121 lots will be determined during the live online sale that will be held on 6-8 October 2022. This lot is in Session One, which will begin 6 October 2022 at 9 AM ET.

Winning bids are subject to a 22.5% buyer's fee for bids placed on this website and 25% for all others.

We recognize that our users may have various Internet Browsers and Operating Systems. We like our visitors to have the best possible experience when using our bidding platform. However, we do recognize that it is impossible to develop applications that work identically, efficiently and effectively on all web browsers. The CNG bidding platform supports the latest stable major version and stable previous version of Chrome and Firefox.