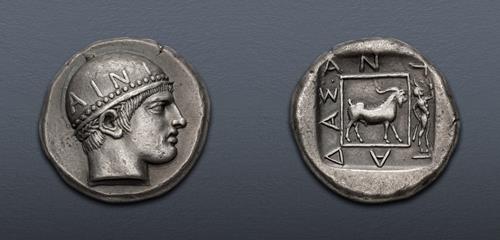 THRACE, Ainos. Circa 453/2-451/0 BC. AR Tetradrachm (24.5mm, 16.43 g, 12h). Antiadas, magistrate. Good VF.
CNG Feature Auction 121
Lot: 162. Estimated: $ 15 000
Greek, 12h, Silver
Sold For $ 27 500. This amount does not include the buyer's fee.
THRACE, Ainos. Circa 453/2-451/0 BC. AR Tetradrachm (24.5mm, 16.43 g, 12h). Antiadas, magistrate. Head of Hermes right, wearing petasos with pelleted rim and inscribed Å5@5 / Goat standing right in linear square; Å@t-5ÅdÅs/ around; to right, Pan standing right on base, cradling lagobolon in right arm and raising left hand; all within incuse square. May, Ainos, Group XVI, 85 (A55/P68); AMNG II 279; HGC 3, 1267; Kraay & Hirmer 421; Jameson 1050 (same dies); McClean 3824 (same dies). Lightly toned, faint porosity, a few light marks under tone, minor obverse die shift. Good VF. Well centered and struck.

From the Father & Son Collection. Ex Triton XXIV (19 January 2021), lot 416; nomos FPL (Winter-Spring 2016), no. 23; Gorny & Mosch 232 (5 October 2015), lot 93.

As noted by May, the tetradrachms of his Group XVI are "unique among the coinage of Ainos," in that the ethnic was moved from the reverse and placed on Hermes' petasos, while the goat was framed by a linear square around which was placed the name of Antiadas and the figure of Pan. Both the placement of the ethnic on the obverse and the addition of a magistrate's name and symbol to the reverse are unlike all the other silver tetradrachms of Ainos, before and after, and these innovations were probably influenced by similar tetradrachms issued contemporaneously at the mints of Abdera and Maroneia. It is uncertain why these innovations were not continued in the subsequent series, but perhaps the answer lies in the lengthy pause between the end of the present series, circa 451/0 BC, and the beginning of the subsequent one, circa 435/4 BC. May's Group XVI coinage is also the only instance where a magistrate's name is found on the coins of Ainos, and this series is arguably the most intricate of all the profile bust tetradrachm series issued there in the early-mid 5th century.

The final winners of all CNG Feature Auction 121 lots will be determined during the live online sale that will be held on 6-8 October 2022. This lot is in Session One, which will begin 6 October 2022 at 9 AM ET.

Winning bids are subject to a 22.5% buyer's fee for bids placed on this website and 25% for all others.

We recognize that our users may have various Internet Browsers and Operating Systems. We like our visitors to have the best possible experience when using our bidding platform. However, we do recognize that it is impossible to develop applications that work identically, efficiently and effectively on all web browsers. The CNG bidding platform supports the latest stable major version and stable previous version of Chrome and Firefox.