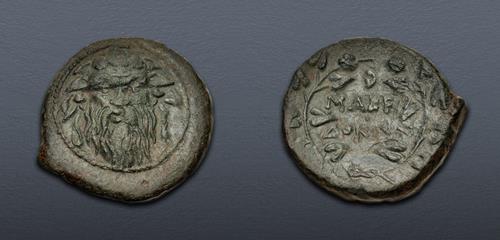 MACEDON (Roman Protectorate), Republican period. Transitional bronze issue. Circa 167-165 BC. Æ (24.5mm, 9.40 g, 1h). Good VF.
CNG Feature Auction 121
Lot: 222. Estimated: $ 750
Greek, Bronze, Coin-in-Hand Video
Sold For $ 450. This amount does not include the buyer's fee.
MACEDON (Roman Protectorate), Republican period. Transitional bronze issue. Circa 167-165 BC. Æ (24.5mm, 9.40 g, 1h). Facing mask of Silenos, wearing ivy wreath / MAKE/ΔONΩN in two lines, D above; all within oak wreath. MacKay pl. III, 10; Touratsoglou, Macedonia 25; HGC 3, 1117 corr. (struck date); Psoma, Maroneia M320. Attractive dark green patina, minor flan flaws. Good VF.

Very little is known about this attractive and interesting coin type. Originally attributed as an issue of the Roman official D. Julius Silanus, more recent scholarship, particularly hoard analyses, have made this untenable. The period to which it now belongs was marked by turmoil caused largely by various barbarian invasions, and coin production was sporadic at all of the Macedonian mints, and probably related to military activity. The Silenos type and oak wreaths were common local motifs used on coins in the Thraco-Macedonian region.

The low dating given in HGC is predicated upon the author's acceptance of the low chronology of the issues of the quaestors C. Publilius and L. Fulcinnius (whose coins were overstruck by the present issue), after 148 BC. However, see T. R. S. Broughton, The Magistrates of the Roman Republic, Vol. 3: Supplement (Oxford, 1986), p. 176, who places C. Publilius in 167 BC, thus confirming the high chronology (but see also E. Champlin's review of Broughton in Classical Philology Vol. 84, No. 1, p. 59, n. 3, where the date of 167 is corrected to 168 BC).

The final winners of all CNG Feature Auction 121 lots will be determined during the live online sale that will be held on 6-8 October 2022. This lot is in Session One, which will begin 6 October 2022 at 9 AM ET.

Winning bids are subject to a 22.5% buyer's fee for bids placed on this website and 25% for all others.

We recognize that our users may have various Internet Browsers and Operating Systems. We like our visitors to have the best possible experience when using our bidding platform. However, we do recognize that it is impossible to develop applications that work identically, efficiently and effectively on all web browsers. The CNG bidding platform supports the latest stable major version and stable previous version of Chrome and Firefox.