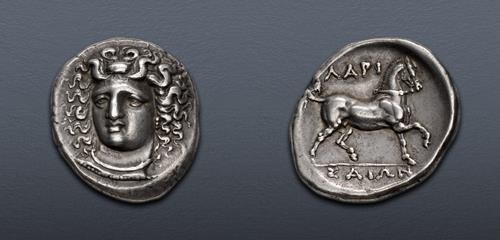 THESSALY, Larissa. Circa 356-342 BC. AR Stater (24mm, 12.19 g, 11h). Near EF.
CNG Feature Auction 121
Lot: 235. Estimated: $ 7 500
Greek, Silver
Sold For $ 9 500. This amount does not include the buyer's fee.
THESSALY, Larissa. Circa 356-342 BC. AR Stater (24mm, 12.19 g, 11h). Head of the nymph Larissa facing slightly left, hair in ampyx, wearing necklace / Bridled horse prancing right; ΛAPI-ΣAIΩN above and below. L-S Type 2, Series B, dies O11/R3, a & c = Weber 2848 = Nanteuil 843 (this coin); BCD Thessaly II 305 (same obv. die); HGC 4, 409. Attractive old cabinet tone. Near EF. Expressive portrait.

From the Father & Son Collection. Ex Classical Numismatic Review XLIV.2 (Summer 2019), no. 515345; Nomos 18 (5 May 2019), lot 93; Gorny & Mosch 107 (2 April 2001), lot 139; Hess-Leu 36 (17 April 1968), lot 183; Henri de Nanteuil Collection, 843; Sir Hermann Weber Collection, purchased from J. P. Lambros, 1897.

The name Larissa derives from a proto-Greek word for "citadel" or "fortress." One of the largest cities in Thessaly, Larissa produced a large and varied coinage beginning in the early-fifth century BC, mostly featuring the hero Thessalos wrestling a bull. Starting about 404 BC, inspired by Kimon's Syracusan facing-head portrait of the spring nymph Arethousa, Larissa introduced a new design also featuring a facing female head, probably intended to represent a local spring nymph bearing the city's name. The nymph heads feature on nearly all Larissan coinage, including bronzes, tiny fractions, silver drachms (by far the most numerous coins struck and surviving), and staters of two drachms. The larger staters, in particular, are closely modeled on Kimon's Arethousa, lacking only the dolphins surrounding the portrait on the original.

The final winners of all CNG Feature Auction 121 lots will be determined during the live online sale that will be held on 6-8 October 2022. This lot is in Session One, which will begin 6 October 2022 at 9 AM ET.

Winning bids are subject to a 22.5% buyer's fee for bids placed on this website and 25% for all others.

We recognize that our users may have various Internet Browsers and Operating Systems. We like our visitors to have the best possible experience when using our bidding platform. However, we do recognize that it is impossible to develop applications that work identically, efficiently and effectively on all web browsers. The CNG bidding platform supports the latest stable major version and stable previous version of Chrome and Firefox.