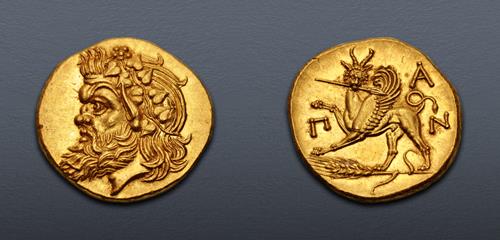 CIMMERIAN BOSPOROS, Pantikapaion. Circa 340-325 BC. AV Stater (21mm, 9.07 g, 11h). NGC photo certification, graded MS, 5/5, 4/5.
CNG Feature Auction 121
Lot: 283. Estimated: $ 75 000
Greek, Coin-in-Hand Video, Gold
Sold For $ 110 000. This amount does not include the buyer's fee.
CIMMERIAN BOSPOROS, Pantikapaion. Circa 340-325 BC. AV Stater (21mm, 9.07 g, 11h). Head of Pan left, wearing ivy wreath / Griffin, holding spear in its mouth, standing left, head facing, forepaw raised, on grain ear; Π-A-N around. Anokhin 1021; MacDonald 54; HGC 7, 20; SNG BM Black Sea 864; Gulbenkian 588–90; Jameson 1361; Pozzi 1150; Sartiges 1580; CNG 117, lot 165 (same obv. die); Triton VII, lot 151 (same obv. die). Lustrous. NGC photo certification 6556103-001, graded MS, Strike: 5/5, Surface: 4/5. Well centered and struck on a broad flan.

Pantikapaion was founded by Greek colonists from Miletos in the late seventh century BC. Situated on the west side of the Cimmerian Bosporos, in what is now called the Crimea, it achieved great prosperity through its exploitation of the abundant fisheries of the straits and the export of wheat from the Crimea. This wealth is attested by its splendid gold coinage, which commenced in the mid-4th century BC, and by the magnificently furnished rock tombs of its principal citizens in the same period. Later, it was to become a regional capital of the kingdom of Mithradates VI of Pontos (120-63 BC) and later still the seat of the kings of Bosporos (first century BC – fourth century AD). The coinage of Pantikapaion seems to have commenced with silver issues in the latter part of the fifth century BC, but it is for its beautiful gold staters that the mint is chiefly noted. They depict the head of the god Pan (a pun on the name of the city) and on the reverse, the griffin that Herodotos describes as being the guardian of the remote sources of gold.

The final winners of all CNG Feature Auction 121 lots will be determined during the live online sale that will be held on 6-8 October 2022. This lot is in Session One, which will begin 6 October 2022 at 9 AM ET.

Winning bids are subject to a 22.5% buyer's fee for bids placed on this website and 25% for all others.

We recognize that our users may have various Internet Browsers and Operating Systems. We like our visitors to have the best possible experience when using our bidding platform. However, we do recognize that it is impossible to develop applications that work identically, efficiently and effectively on all web browsers. The CNG bidding platform supports the latest stable major version and stable previous version of Chrome and Firefox.