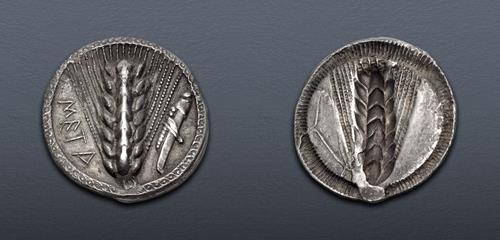 LUCANIA, Metapontion. Circa 540-510 BC. AR Nomos (28.5mm, 6.89 g, 12h). Near EF.
Triton XXVI
Lot: 18. Estimated: $ 20 000
Greek, 12h, Coin-in-Hand Video, Silver
Sold For $ 32 500. This amount does not include the buyer's fee.
LUCANIA, Metapontion. Circa 540-510 BC. AR Nomos (28.5mm, 6.89 g, 12h). Ear of barley with seven grains; 7eTå down left field, grasshopper upward to right / Incuse ear of barley with seven grains; outline of dolphin upward to left. Noe Class V, 100 (same dies); HN Italy 1472; SNG ANS 206 (same dies); Basel 130 (same dies); Gillet 132 (this coin); Kraay & Hirmer 229 (same dies). Toned, die breaks on reverse (diagnostic for die). Near EF.

Ex Antiquarium Group (CNG inventory 494707, August 2020); Gasvoda Collection (Triton XXII, 9 September 2019) lot 18; Numismatica Ars Classica 92 (23 May 2016), lot 88; A. D. Moretti Collection; Numismatica Ars Classica 18 (29 March 2000), lot 22; Numismatica Ars Classica 9 (16 April 1996), lot 57; Leu 42 (12 May 1987), lot 46; Charles Gillet Collection.

One of the most interesting varieties of Metapontion's incuse coinage are the issues which include the locust (or grasshopper) design detail, as here. There are a number of variations. Here the insect paired with a dolphin in outline on the reverse. The locust would have been a serious threat to the agricultural bounty of Metapontion, and it has been speculated its appearance here marks an outbreak of locusts that was ended by the intervention of Apollo, who is represented by the dolphin.

The final winners of all Triton XXVI lots will be determined at the live public sale that will be held on 10-11 January 2023.

Triton XXVI – Session One – Lots 1-334 will be held Tuesday morning, 10 January 2023 beginning at 9:00 AM ET.

Winning bids are subject to a 22.5% buyer's fee for bids placed on this website and 25% for all others.

We recognize that our users may have various Internet Browsers and Operating Systems. We like our visitors to have the best possible experience when using our bidding platform. However, we do recognize that it is impossible to develop applications that work identically, efficiently and effectively on all web browsers. The CNG bidding platform supports the latest stable major version and stable previous version of Chrome and Firefox.