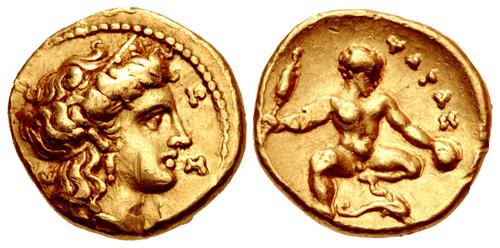 CALABRIA, Tarentum. Circa 320 BC. AV Diobol – Sixth Stater (10mm, 1.43 g, 3h).
CNG Feature Auction 114
Lot: 2. Estimated: $ 5 000
Greek, Gold
Sold For $ 7 000. This amount does not include the buyer's fee.
CALABRIA, Tarentum. Circa 320 BC. AV Diobol – Sixth Stater (10mm, 1.43 g, 3h). Head of Persephone right, wearing a stephanos ornamented with a palmette, and single-pendant earring; [K to left]; to right, |- above M above Φ / The infant Taras squatting facing, head right, holding distaff in left hand, wool in right; TAPAΣ to left; below, dolphin right. Fischer-Bossert G8d (V7/R8) = Jameson 151 (this coin); Vlasto 7; HN Italy 903; SNG ANS 956; SNG Lloyd 181; Adams II 2005 = Côte 195 = Weber 545; Boston MFA 64 = Warren 37; Gulbenkian 30 = Vlasto 8; de Luynes 252; McClean 598 (all from the same dies). Shallow scrape on obverse, slight die shift on reverse. Good VF. Rare, and much better than the Adams/Côte/Weber example that hammered at $8500 in Triton XIX.

From the collection of an English Queen's Counsel. Ex Numismatica Ars Classica 54 (24 March 2010), lot 7; Numismatica Ars Classica 9 (16 April 1996), lot 28; A. D. Moretti Collection; Robert Jameson Collection; G. Nervegna Collection (Sambon & Canessa, 18 November 1907), lot 252.


The final winners of all CNG Feature Auction 114 lots will be determined during the live online sale that will be held on 13-14 May 2020. This lot is in Session 1, which begins 13 May 2020 at 9 AM ET.

UPDATE: As the CNG staff and many of our clients remain under social distancing and other restrictions due to the COVID-19 pandemic, CNG 114 will be held as an internet only auction. The sale will take place as scheduled on 13-14 May 2020.

Winning bids are subject to a 20% buyer's fee for bids placed on this website and 22.50% for all others.

We recognize that our users may have various Internet Browsers and Operating Systems. We like our visitors to have the best possible experience when using our bidding platform. However, we do recognize that it is impossible to develop applications that work identically, efficiently and effectively on all web browsers The CNG bidding platform supports Mozilla Firefox (version 60+) and Chrome (version 67+).