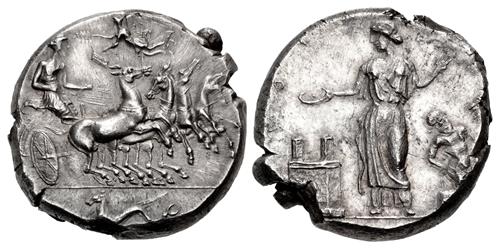 SICILY, Himera. Circa 409-407 BC. AR Tetradrachm (25mm, 17.54 g, 2h). Obverse die signed by the artist Mai-.
CNG Feature Auction 114
Lot: 35. Estimated: $ 5 000
Greek, Silver
Sold For $ 5 500. This amount does not include the buyer's fee.
SICILY, Himera. Circa 409-407 BC. AR Tetradrachm (25mm, 17.54 g, 2h). Obverse die signed by the artist Mai-. The nymph Himera, holding reins in both hands, driving unruly quadriga right; above, Nike flying left, crowning her with wreath held in extended right hand, left hand holding plaque inscribed MAI; in exergue, ketos left / Himera standing facing, head left, holding in right hand a patera over altar to left; to right, satyr bathing in fountain with lion-headed spout; [HI-MEP-A]ION (retrograde) counterclockwise around from exergue. Arnold-Biucchi, Monetazione, Group IV, 22 (Q8/H17); Gutmann & Schwabacher 20; HGC 2, 436; SNG Lloyd 1022 (same dies); Basel 306 (same dies); Gillet 434 (same dies); Kraay & Hirmer 71 (same dies); Rizzo pl. XXI, 23 = de Luynes 977 (same dies). Lightly toned over full luster. Superb EF.

From the John L. Cowan Collection. Ex CNG Inventory 868955 (May 2010); UBS 78 (9 September 2008), lot 1014.


The final winners of all CNG Feature Auction 114 lots will be determined during the live online sale that will be held on 13-14 May 2020. This lot is in Session 1, which begins 13 May 2020 at 9 AM ET.

UPDATE: As the CNG staff and many of our clients remain under social distancing and other restrictions due to the COVID-19 pandemic, CNG 114 will be held as an internet only auction. The sale will take place as scheduled on 13-14 May 2020.

Winning bids are subject to a 20% buyer's fee for bids placed on this website and 22.50% for all others.

We recognize that our users may have various Internet Browsers and Operating Systems. We like our visitors to have the best possible experience when using our bidding platform. However, we do recognize that it is impossible to develop applications that work identically, efficiently and effectively on all web browsers The CNG bidding platform supports Mozilla Firefox (version 60+) and Chrome (version 67+).