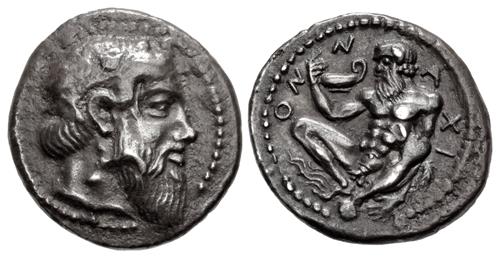 SICILY, Naxos. Circa 461-430 BC. AR Drachm (12.5mm, 4.34 g, 9h).
CNG Feature Auction 114
Lot: 46. Estimated: $ 20 000
Greek, 360 Photo, Silver
Sold For $ 37 500. This amount does not include the buyer's fee.
SICILY, Naxos. Circa 461-430 BC. AR Drachm (12.5mm, 4.34 g, 9h). Bearded head of Dionysos right, wearing ivy wreath / Silenos, nude and ithyphallic, squatting half-left, holding kylix in right hand and supporting himself with his left, tail behind; N-A-XI-ON around; all within shallow concave circular incuse. Cahn 56.3 (V41/R47) = Rizzo pl. XXVIII,14 = Walcher von Molthein 115 (this coin); HGC 2, 990; SNG ANS 518–9 (same dies); SNG Lloyd 1152 (same dies); BMC 9 (same dies); Boston MFA 305 = Warren 274 (same dies); Jameson 676 (same dies); de Luynes 1064 (same dies); Pozzi 507 (same dies); Sartiges 111 (same dies). Dark find patina, die break on obverse (typical for die). Good VF. Well centered.

From the Jonathan P. Rosen Collection. Ex Gemini XI (12 January 2014), lot 9; New York Sale XXX (9 January 2013), lot 25; Münzen und Medaillen AG 54 (26 October 1978), lot 107; Walter Niggeler Collection (Part 1, Leu/Münzen und Medaillen AG, 3 December 1965), lot 127; Merzbacher (15 November 1910), lot 241; Carlo Stiavelli Collection (Santamaria, 6 April 1908), lot 178; Franz Merkens Collection (J. Hirsch XIV, 27 November 1905), lot 191; Theodor Prowe Collection (Part I, Egger XVII, 28 November 1904), lot 217; Léopold Walcher de Molthein Collection (Cahn 9, 25 February 1901), lot 487.


The final winners of all CNG Feature Auction 114 lots will be determined during the live online sale that will be held on 13-14 May 2020. This lot is in Session 1, which begins 13 May 2020 at 9 AM ET.

UPDATE: As the CNG staff and many of our clients remain under social distancing and other restrictions due to the COVID-19 pandemic, CNG 114 will be held as an internet only auction. The sale will take place as scheduled on 13-14 May 2020.

Winning bids are subject to a 20% buyer's fee for bids placed on this website and 22.50% for all others.

We recognize that our users may have various Internet Browsers and Operating Systems. We like our visitors to have the best possible experience when using our bidding platform. However, we do recognize that it is impossible to develop applications that work identically, efficiently and effectively on all web browsers The CNG bidding platform supports Mozilla Firefox (version 60+) and Chrome (version 67+).