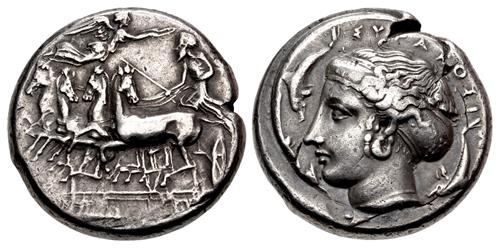 SICILY, Syracuse. Dionysios I. 405-367 BC. AR Tetradrachm (24.5mm, 17.18 g, 8h). Struck circa 405-400 BC.
CNG Feature Auction 114
Lot: 67. Estimated: $ 2 000
Greek, Silver
Sold For $ 2 750. This amount does not include the buyer's fee.
SICILY, Syracuse. Dionysios I. 405-367 BC. AR Tetradrachm (24.5mm, 17.18 g, 8h). Struck circa 405-400 BC. Charioteer, wearing long chiton, holding kentron and reins, driving fast quadriga right; above, Nike flying left, crowning charioteer; ivy leaf on vine below horses to left; in exergue, grain ear left / Head of Arethousa left, hair in ornate sphendone, wearing large hoop earring and linear necklace with small frontal pendant; four dolphins swimming around. Fischer-Bossert, Coins (Tudeer) 82 (V30/R55); SNG ANS 290; BMC 217–8; Dewing 849; de Luynes 1218; Gillet 658; McClean 2718; J. Hirsch XXXII (Virzi), lot 339 (all from the same dies); HGC 2, 1342. Attractively toned, slightly irregular flan. Good VF. Well centered.

Ex Sayles & Lavender inventory 17065.


The final winners of all CNG Feature Auction 114 lots will be determined during the live online sale that will be held on 13-14 May 2020. This lot is in Session 1, which begins 13 May 2020 at 9 AM ET.

UPDATE: As the CNG staff and many of our clients remain under social distancing and other restrictions due to the COVID-19 pandemic, CNG 114 will be held as an internet only auction. The sale will take place as scheduled on 13-14 May 2020.

Winning bids are subject to a 20% buyer's fee for bids placed on this website and 22.50% for all others.

We recognize that our users may have various Internet Browsers and Operating Systems. We like our visitors to have the best possible experience when using our bidding platform. However, we do recognize that it is impossible to develop applications that work identically, efficiently and effectively on all web browsers The CNG bidding platform supports Mozilla Firefox (version 60+) and Chrome (version 67+).