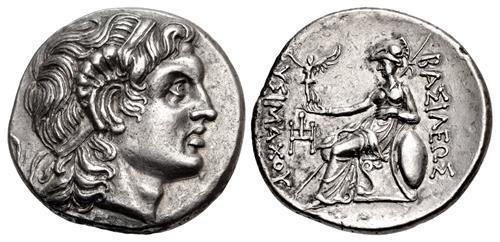 KINGS of THRACE, Local Dynasts. Skostokos. Circa 285/4-273/2 BC. AR Tetradrachm (29mm, 17.18 g, 8h). Ainos mint. Struck circa 280 BC.
CNG Feature Auction 114
Lot: 103. Estimated: $ 2 000
Greek, Silver
Sold For $ 5 000. This amount does not include the buyer's fee.
KINGS of THRACE, Local Dynasts. Skostokos. Circa 285/4-273/2 BC. AR Tetradrachm (29mm, 17.18 g, 8h). Ainos mint. Struck circa 280 BC. Diademed head of the deified Alexander right, with horn of Ammon / Athena Nikephoros seated left, left arm resting on shield, transverse spear in background; to inner left, cult image set on throne. Fischer-Bossert, Lysimacheier C7 (V c6/R c7); Thompson 257 var. (extra control marks); Müller 114; HGC 3, 1750r; Weber 2727 (same dies). Lightly toned. EF. Well struck. Very rare, only six examples noted by Fischer-Bossert, six additionally in CoinArchives.

From the San Vicente Collection, purchased from Dr. Arnold Saslow, June 1995.

While previous scholars viewed Skostokos as a dynast who took control of parts of Thrace following Lysimachos' death, Fischer-Bossert's die study demonstrates that Skostokos was most likely a local dynast of the environs around Ainos, who ruled under Lysimachos, and was permitted to strike Lysimachi beginning late in the king's reign. Current scholarship suggests he ruled from circa 285/4-273/2 BC (see, e.g., E. Paunov, "Introduction to the Numismatics of Thrace" in J. Valeva, et al., A Companion to Ancient Thrace, p. 280, fig. 18.4). Skostokos apparently continued to strike Lysimachi in the chaotic period following the latter's death, before Seleukid authority could be established in Thrace.

The final winners of all CNG Feature Auction 114 lots will be determined during the live online sale that will be held on 13-14 May 2020. This lot is in Session 1, which begins 13 May 2020 at 9 AM ET.

UPDATE: As the CNG staff and many of our clients remain under social distancing and other restrictions due to the COVID-19 pandemic, CNG 114 will be held as an internet only auction. The sale will take place as scheduled on 13-14 May 2020.

Winning bids are subject to a 20% buyer's fee for bids placed on this website and 22.50% for all others.

We recognize that our users may have various Internet Browsers and Operating Systems. We like our visitors to have the best possible experience when using our bidding platform. However, we do recognize that it is impossible to develop applications that work identically, efficiently and effectively on all web browsers The CNG bidding platform supports Mozilla Firefox (version 60+) and Chrome (version 67+).