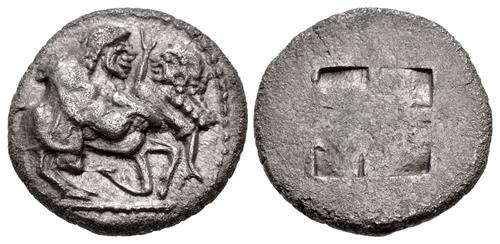 THRACO-MACEDONIAN TRIBES, Uncertain. Circa 500-480 BC. AR Stater (20mm, 7.28 g).
CNG Feature Auction 114
Lot: 108. Estimated: $ 2 000
Greek, Silver
Sold For $ 1 500. This amount does not include the buyer's fee.
THRACO-MACEDONIAN TRIBES, Uncertain. Circa 500-480 BC. AR Stater (20mm, 7.28 g). Asyut 62–80; Peykov Type I, A0600 (Orreskioi); HPM pl. VI, 15 and 17-18; HGC 3, –; SNG ANS 980 (Orreskioi). Toned, porous. Good VF.

From the Jonathan P. Rosen Collection. Ex Berk BBS 200 (18 January 2017), lot 52.

The centaur-nymph motif was used by a number of Thraco-Macedonian tribes, and at least three tribes – the Orreskioi, Letaioi, and the Zaelioi – inscribed their ethnic on the obverse. The present coin, though, belongs to the quantity of unsigned issues that cannot yet be assigned to a particular tribe, although Peykov and the cataloger of the ANS sylloge assumed the issue was from the Orreskioi. Moreover, the obverse on this coin has a pellet border, which is not present on any of the signed issues.

The final winners of all CNG Feature Auction 114 lots will be determined during the live online sale that will be held on 13-14 May 2020. This lot is in Session 1, which begins 13 May 2020 at 9 AM ET.

UPDATE: As the CNG staff and many of our clients remain under social distancing and other restrictions due to the COVID-19 pandemic, CNG 114 will be held as an internet only auction. The sale will take place as scheduled on 13-14 May 2020.

Winning bids are subject to a 20% buyer's fee for bids placed on this website and 22.50% for all others.

We recognize that our users may have various Internet Browsers and Operating Systems. We like our visitors to have the best possible experience when using our bidding platform. However, we do recognize that it is impossible to develop applications that work identically, efficiently and effectively on all web browsers The CNG bidding platform supports Mozilla Firefox (version 60+) and Chrome (version 67+).