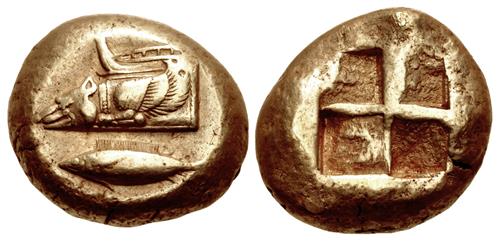 MYSIA, Kyzikos. Circa 550-450 BC. EL Stater (20mm, 15.99 g).
CNG Feature Auction 114
Lot: 216. Estimated: $ 5 000
Greek, 360 Photo, Electrum
Sold For $ 17 000. This amount does not include the buyer's fee.
MYSIA, Kyzikos. Circa 550-450 BC. EL Stater (20mm, 15.99 g). Prow left, the lower hull decorated as a winged forepart of a wolf, the head of which forms the ship's embolon (ram); below, tunny left / Quadripartite incuse square. Von Fritze I 80; Greenwell 170; Boston MFA –; SNG BN 210 = Traité II 2797, pl. CLXXVII, 33 = de Luynes 2459; Ars-Classica & Naville XII, lot 1721 = Egger XXXIX, lot 304; Leu 52, lot 82; Triton XVIII, lot 571; CNG 106, lot 301. Good VF. Well centered. Extremely rare, the seventh known, two of which are in museums (Berlin and Paris).

From the Siren Collection.

This prow type is exceptional among the staters of Kyzikos, which typically portray deities, animals, and mythological creatures and scenes. Greenwell suggests that the prow portrayed here is probably intended to be that of the famed Argo, as the expedition of the Argonauts plays an important part in the mythological history of Kyzikos.

The final winners of all CNG Feature Auction 114 lots will be determined during the live online sale that will be held on 13-14 May 2020. This lot is in Session 1, which begins 13 May 2020 at 9 AM ET.

UPDATE: As the CNG staff and many of our clients remain under social distancing and other restrictions due to the COVID-19 pandemic, CNG 114 will be held as an internet only auction. The sale will take place as scheduled on 13-14 May 2020.

Winning bids are subject to a 20% buyer's fee for bids placed on this website and 22.50% for all others.

We recognize that our users may have various Internet Browsers and Operating Systems. We like our visitors to have the best possible experience when using our bidding platform. However, we do recognize that it is impossible to develop applications that work identically, efficiently and effectively on all web browsers The CNG bidding platform supports Mozilla Firefox (version 60+) and Chrome (version 67+).