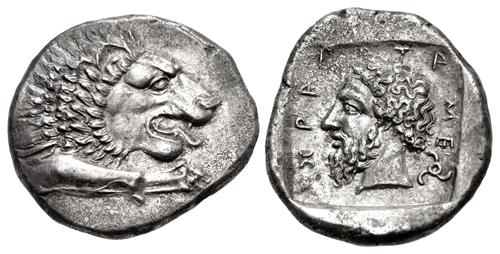 DYNASTS of LYCIA. Mithrapata. Circa 390-370 BC. AR Stater (25mm, 9.73 g, 10h).
CNG Feature Auction 114
Lot: 356. Estimated: $ 3 000
Greek, Silver
Sold For $ 4 250. This amount does not include the buyer's fee.
DYNASTS of LYCIA. Mithrapata. Circa 390-370 BC. AR Stater (25mm, 9.73 g, 10h). Forepart of lion right / Head of Mithrapata left; MI-THRA-PATA in Lycian around, triskeles to lower right; all within incuse square. Mildenberg, Mithrapata 3 (dies 2/2); Podalia 37–40 (A2/P2); Müseler VII 66–9 (same dies); Reuter 98 (same obv. die); Falghera –; SNG Copenhagen Supp. 472 var. (arrangement of letters); SNG Ashmolean 1200 (same dies); SNG von Aulock 4237 (same dies). Toned, minor porosity. EF. Well centered.

From the Weise Collection. Ex CNG inventory 763572 (January 2006).

The portraits on coins in the later Lycian series are among the finest of the Classical period. Among the earliest to attempt depictions of their rulers on coinage, the Lycians' first portraits in the later 5th century BC were innovative, but static, idealized forms lacking individual characterization. Over the next half-century, however, the style progressed significantly toward realism, culminating in the issues of the dynasts Mithrapata and Perikles in the early-mid 4th century BC. The coins of Mithrapata came first, depicting on their reverse the profile portrait of a man with distinctive elderly features. Through the relative chronology established in L. Mildenberg's die study, one can even see the portrait become more aged as time progressed, reflecting the realism that had been captured in these issues. The coins of Perikles, Mithrapata's successor, continue this trend. Interestingly, both Mithrapata and Perikles are depicted without any sort of satrapal headgear, which was always included in earlier Lycian portraits, perhaps indicating that they had declared their independence from the Persian king. Unfortunately, these astonishing developments in portraiture came to an abrupt end in Lycia when Maussollos of Caria invaded the region circa 360 BC.

The final winners of all CNG Feature Auction 114 lots will be determined during the live online sale that will be held on 13-14 May 2020. This lot is in Session 1, which begins 13 May 2020 at 9 AM ET.

UPDATE: As the CNG staff and many of our clients remain under social distancing and other restrictions due to the COVID-19 pandemic, CNG 114 will be held as an internet only auction. The sale will take place as scheduled on 13-14 May 2020.

Winning bids are subject to a 20% buyer's fee for bids placed on this website and 22.50% for all others.

We recognize that our users may have various Internet Browsers and Operating Systems. We like our visitors to have the best possible experience when using our bidding platform. However, we do recognize that it is impossible to develop applications that work identically, efficiently and effectively on all web browsers The CNG bidding platform supports Mozilla Firefox (version 60+) and Chrome (version 67+).