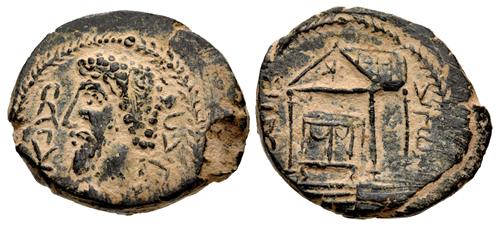 KINGS of OSRHOENE (EDESSA). Wa'el. AD 163-165. Æ (22mm, 7.59 g, 5h).
CNG Feature Auction 114
Lot: 370. Estimated: $ 500
Greek, Bronze
Sold For $ 1 200. This amount does not include the buyer's fee.
KINGS of OSRHOENE (EDESSA). Wa'el. AD 163-165. Æ (22mm, 7.59 g, 5h). Draped bust left within wreath / Distyle temple with star in pediment; within, cubical (cult?) object set on base with curved legs; all seen in three-quarters left perspective. SNG Copenhagen –; BMC 3; CNG E-229, lot 244 (hammer $850). Earthen black patina, slightly off center. Good VF. Exceptional for issue, much better than the CNG E-229 coin.

Edessa was a small independent kingdom in an unenviable position between the feuding Roman and Parthian empires. It was ruled by the Abgarids, an Arab dynasty that is thought to have originated in the area of Nabataea. Founded by Aryu in 132 BC, this dynasty ruled Edessa until the 3rd century AD; it was incorporated into the Roman Empire by Caracalla in 214 AD, and the final two kings were mere figureheads that ruled at the will of the Romans. The dynasty came to an end circa 242 AD. Wa'el was appointed to the throne by the Parthian Vologases IV, who had deposed the legitimate king Ma'nu VIII. Wa'el's reign lasted a brief two years before he himself was deposed by the Romans.

The final winners of all CNG Feature Auction 114 lots will be determined during the live online sale that will be held on 13-14 May 2020. This lot is in Session 1, which begins 13 May 2020 at 9 AM ET.

UPDATE: As the CNG staff and many of our clients remain under social distancing and other restrictions due to the COVID-19 pandemic, CNG 114 will be held as an internet only auction. The sale will take place as scheduled on 13-14 May 2020.

Winning bids are subject to a 20% buyer's fee for bids placed on this website and 22.50% for all others.

We recognize that our users may have various Internet Browsers and Operating Systems. We like our visitors to have the best possible experience when using our bidding platform. However, we do recognize that it is impossible to develop applications that work identically, efficiently and effectively on all web browsers The CNG bidding platform supports Mozilla Firefox (version 60+) and Chrome (version 67+).