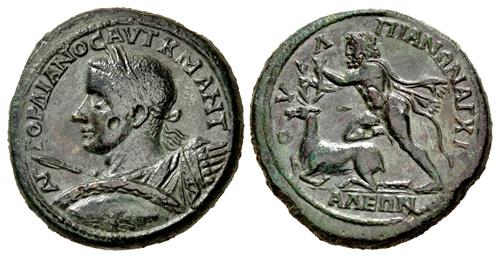 THRACE, Anchialus. Gordian III. AD 238-244. Æ Medallion (37mm, 35.55 g, 6h). Labor of Hercules type.
CNG Feature Auction 114
Lot: 502. Estimated: $ 3 000
Roman Provincial, Bronze
Sold For $ 3 000. This amount does not include the buyer's fee.
THRACE, Anchialus. Gordian III. AD 238-244. Æ Medallion (37mm, 35.55 g, 6h). Labor of Hercules type. Laureate, draped, and cuirassed bust left, holding spear and shield decorated with eagle / Herakles and the Cerynean Hind – Herakles standing left, grasping the antlers of the Cerynean Hind with both hands and leaning on its back with his right knee. AMNG II 622; Varbanov 639; Voegtli Type 3j; Stoll, Herakles –. Dark green and brown surfaces, some light smoothing. Near EF. Very rare.

From the Benito Collection. Ex Gemini III (9 January 2007), lot 433.

For his third labor, Herakles was required to capture the Cerynean hind, with its brazen hooves and golden horns, alive and bring it from Oenoe to Mycenae. Herakles chased the stag for one full year before it finally tired, and then he captured it – as shown on the coin type.

The final winners of all CNG Feature Auction 114 lots will be determined during the live online sale that will be held on 13-14 May 2020. This lot is in Session 2, which begins 13 May 2020 at 2 PM ET.

UPDATE: As the CNG staff and many of our clients remain under social distancing and other restrictions due to the COVID-19 pandemic, CNG 114 will be held as an internet only auction. The sale will take place as scheduled on 13-14 May 2020.

Winning bids are subject to a 20% buyer's fee for bids placed on this website and 22.50% for all others.

We recognize that our users may have various Internet Browsers and Operating Systems. We like our visitors to have the best possible experience when using our bidding platform. However, we do recognize that it is impossible to develop applications that work identically, efficiently and effectively on all web browsers The CNG bidding platform supports Mozilla Firefox (version 60+) and Chrome (version 67+).