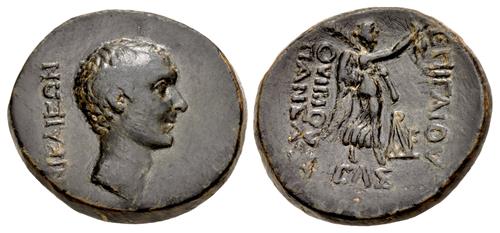 BITHYNIA, Nicaea. Julius Caesar. Æ (24mm, 8.38 g, 11h). C. Vibius Pansa, proconsul. Dated CY 236 (47/6 BC).
CNG Feature Auction 114
Lot: 509. Estimated: $ 5 000
Roman Provincial, Bronze
Sold For $ 6 500. This amount does not include the buyer's fee.
BITHYNIA, Nicaea. Julius Caesar. Æ (24mm, 8.38 g, 11h). C. Vibius Pansa, proconsul. Dated CY 236 (47/6 BC). Bare head of Caesar right; [N]IKAEΩN upward to left / Nike advancing right, holding palm frond in right hand, wreath in left; uncertain monograms to lower left and inner right, ςΛΣ (date) in exergue. Weiser, Nikaia –; RPC I 2026; RG 11; BMC 8-9; Triton XIX, lot 356. Dark green patina, smoothing/cleaning marks. Good VF. Rare.

This type was the first anywhere to feature the portrait of Julius Caesar. C. Vibius Pansa was part of the Caesarian faction at Rome and probably owed his proconsulship to his patron. The only other definite lifetime portrait of Caesar from the provincial series was an issue of circa 45 BC at Lampsacus (RPC I 2268-2269). Both of these issues preceded the earliest appearance of his portrait at Rome, which was on the denarii of M. Mettius in January 44 BC.

The final winners of all CNG Feature Auction 114 lots will be determined during the live online sale that will be held on 13-14 May 2020. This lot is in Session 2, which begins 13 May 2020 at 2 PM ET.

UPDATE: As the CNG staff and many of our clients remain under social distancing and other restrictions due to the COVID-19 pandemic, CNG 114 will be held as an internet only auction. The sale will take place as scheduled on 13-14 May 2020.

Winning bids are subject to a 20% buyer's fee for bids placed on this website and 22.50% for all others.

We recognize that our users may have various Internet Browsers and Operating Systems. We like our visitors to have the best possible experience when using our bidding platform. However, we do recognize that it is impossible to develop applications that work identically, efficiently and effectively on all web browsers The CNG bidding platform supports Mozilla Firefox (version 60+) and Chrome (version 67+).