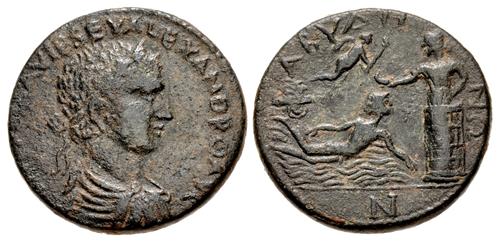 TROAS, Abydus. Severus Alexander. AD 222-235. Æ (32.5mm, 21.47 g, 6h).
CNG Feature Auction 114
Lot: 510. Estimated: $ 2 000
Roman Provincial, Bronze
Sold For $ 3 250. This amount does not include the buyer's fee.
TROAS, Abydus. Severus Alexander. AD 222-235. Æ (32.5mm, 21.47 g, 6h). Laureate, draped, and cuirassed bust right / Leander swimming right across Hellespont toward tower containing Hero standing left, who holds a lighted lamp in extended right hand; to left, sheathed sword set on rock outcropping; above, Eros flying right, holding wedding torch. M. Price, "Greek Imperial Coins" in NC 1971, p. 129 and note 4; BMC 60 (Septimius), p. 7 note; SNG von Aulock 7543. Dark green patina with light earthen highlights/deposits, some light smoothing. VF. Extremely rare.

The tragic love-story of Hero and Leander was a popular theme with Classical and Renaissance poets and playwrights. Leander was a young man from Abydus, located on the Asian side of the Hellespont. Across the water in Sestus lived Hero, a virgin and priestess of Aphrodite. Enamored of Hero, Leander would swim each night two miles across the strait to woo her and would swim back to Abydus in the early morning. To guide him in this dangerous journey, Hero would climb a tower on the shore near Sestus with a lamp. One stormy night, however, Leander, drowned when the storm put out the light. When Hero became aware of his death, she cast herself in despair from the tower into the waters below, and she too drowned.

The final winners of all CNG Feature Auction 114 lots will be determined during the live online sale that will be held on 13-14 May 2020. This lot is in Session 2, which begins 13 May 2020 at 2 PM ET.

UPDATE: As the CNG staff and many of our clients remain under social distancing and other restrictions due to the COVID-19 pandemic, CNG 114 will be held as an internet only auction. The sale will take place as scheduled on 13-14 May 2020.

Winning bids are subject to a 20% buyer's fee for bids placed on this website and 22.50% for all others.

We recognize that our users may have various Internet Browsers and Operating Systems. We like our visitors to have the best possible experience when using our bidding platform. However, we do recognize that it is impossible to develop applications that work identically, efficiently and effectively on all web browsers The CNG bidding platform supports Mozilla Firefox (version 60+) and Chrome (version 67+).