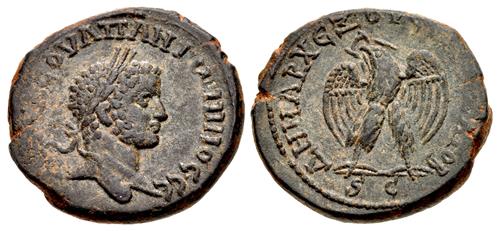 SELEUCIS and PIERIA, Emesa. Uranius Antoninus. Usurper, AD 253-254. BI Tetradrachm (26mm, 12.09 g, 12h).
CNG Feature Auction 114
Lot: 523. Estimated: $ 2 000
Roman Provincial, Billon
Sold For $ 1 900. This amount does not include the buyer's fee.
SELEUCIS and PIERIA, Emesa. Uranius Antoninus. Usurper, AD 253-254. BI Tetradrachm (26mm, 12.09 g, 12h). Laureate head right / Eagle standing facing, head and tail left, with wings spread, holding wreath in beak; S C in exergue. Baldus 24 (dies XVII/22); Prieur 1045; RPC IX 1888. Dark green patina with light earthen highlights, a hint of gentle smoothing. VF. Extremely rare, only one known to Prieur, and two in CoinArchives.

The little that is known about the usurper Uranius Antoninus comes entirely from his coinage. He came to power in the East in 253 AD during a period of great crisis and upheaval for the Roman Empire. At this time, the Sasanian king Shapur I made many incursions into Roman territory, even capturing the great city of Antioch, apparently just to show that he could: his armies burned and pillaged the communities in their path and took people and plunder back to their own territory. It may be that Uranius Antoninus came to power in order to defend his community from attack rather than out of any anti-Roman antipathy. He issued coins from the mint at Emesa, some of which feature the sacred stone of El-Gabal, which might indicate that Uranius was part of the Emesene royal family of priest-kings. The coins are dated in accordance with the Seleucid dating system, which is reflective of the region's historical status as part of the Seleucid Empire. As with many usurpers, Uranius Antoninus' reign did not last long, and he fell from power before Valerian I came eastward in AD 254.

The final winners of all CNG Feature Auction 114 lots will be determined during the live online sale that will be held on 13-14 May 2020. This lot is in Session 2, which begins 13 May 2020 at 2 PM ET.

UPDATE: As the CNG staff and many of our clients remain under social distancing and other restrictions due to the COVID-19 pandemic, CNG 114 will be held as an internet only auction. The sale will take place as scheduled on 13-14 May 2020.

Winning bids are subject to a 20% buyer's fee for bids placed on this website and 22.50% for all others.

We recognize that our users may have various Internet Browsers and Operating Systems. We like our visitors to have the best possible experience when using our bidding platform. However, we do recognize that it is impossible to develop applications that work identically, efficiently and effectively on all web browsers The CNG bidding platform supports Mozilla Firefox (version 60+) and Chrome (version 67+).