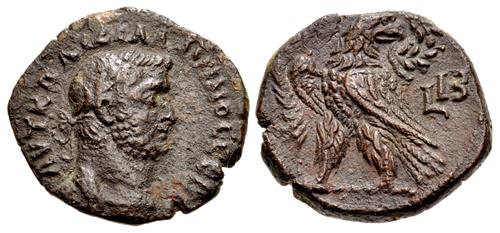 EGYPT, Alexandria. Gallienus. AD 253-268. Æ Drachm (27.5mm, 11.00 g, 11h). Dated RY 12 (AD 264/265).
CNG Feature Auction 114
Lot: 534. Estimated: $ 750
Roman Provincial, Bronze
Sold For $ 450. This amount does not include the buyer's fee.
EGYPT, Alexandria. Gallienus. AD 253-268. Æ Drachm (27.5mm, 11.00 g, 11h). Dated RY 12 (AD 264/265). Laureate and cuirassed bust right / Eagle standing left, head right with wreath in its beak, wings closed; L IB (date) to right, palm frond to left. Köln 2926; Dattari (Savio) 5294-6; K&G 90.83; Emmett 3842.12 (R2). Dark brown patina with traces of red and green, some light roughness and minor smoothing. Good VF. Rare.

Ex Phil Peck Collection.

This rare issue of drachms by Gallienus was most likely part of a continuing series of coins commemorating his decennalia, which occurred two years prior in AD 263. The diameter and weight of this issue were significantly decreased from the typical Alexandrian drachm of previous reigns.

The final winners of all CNG Feature Auction 114 lots will be determined during the live online sale that will be held on 13-14 May 2020. This lot is in Session 2, which begins 13 May 2020 at 2 PM ET.

UPDATE: As the CNG staff and many of our clients remain under social distancing and other restrictions due to the COVID-19 pandemic, CNG 114 will be held as an internet only auction. The sale will take place as scheduled on 13-14 May 2020.

Winning bids are subject to a 20% buyer's fee for bids placed on this website and 22.50% for all others.

We recognize that our users may have various Internet Browsers and Operating Systems. We like our visitors to have the best possible experience when using our bidding platform. However, we do recognize that it is impossible to develop applications that work identically, efficiently and effectively on all web browsers The CNG bidding platform supports Mozilla Firefox (version 60+) and Chrome (version 67+).