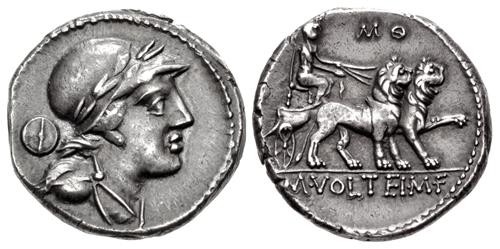 M. Volteius M.f. 75 BC. AR Denarius (19mm, 4.01 g, 3h). Rome mint.
CNG Feature Auction 114
Lot: 577. Estimated: $ 1 500
Roman Republican, Silver
Sold For $ 3 250. This amount does not include the buyer's fee.
M. Volteius M.f. 75 BC. AR Denarius (19mm, 4.01 g, 3h). Rome mint. Laureate, helmeted, and draped bust of Attis right; shield to left / Cybele driving biga of lions right; MΘ above. Crawford 385/4; Sydenham 777; Volteia 4; FFC 1232 (this coin). Lovely old toning. Near EF. Well struck and centered.

Ex Alba Longa (Jose Fernandez Molina) Collection; Peus 360 (27 April 1999), lot 335; Triton III (30 November 1999), lot 908.

The bust on the obverse has been variously identified as Attis, Liber, or Bellona. The reverse depiction of Cyble/Magna Mater in a chariot pulled by lions argues for the identification with Attis, in Greek mythology the eunuch consort of the great mother goddess. Cybele's cult image was brought to Rome from Pessinus in Phrygia circa 204 BC, in response to the Sibylline Oracle's prediction that Rome could only defeat Carthage by importing and adopting her statue and cult. Games in her honor were celebrated in 193 and became an annual event with the completion of her temple by Marcus Junius Brutus.

The final winners of all CNG Feature Auction 114 lots will be determined during the live online sale that will be held on 13-14 May 2020. This lot is in Session 2, which begins 13 May 2020 at 2 PM ET.

UPDATE: As the CNG staff and many of our clients remain under social distancing and other restrictions due to the COVID-19 pandemic, CNG 114 will be held as an internet only auction. The sale will take place as scheduled on 13-14 May 2020.

Winning bids are subject to a 20% buyer's fee for bids placed on this website and 22.50% for all others.

We recognize that our users may have various Internet Browsers and Operating Systems. We like our visitors to have the best possible experience when using our bidding platform. However, we do recognize that it is impossible to develop applications that work identically, efficiently and effectively on all web browsers The CNG bidding platform supports Mozilla Firefox (version 60+) and Chrome (version 67+).