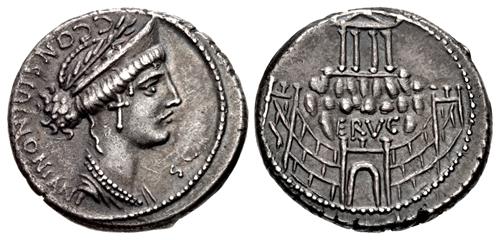 C. Considius Nonianus. 56 BC. AR Denarius (17.5mm, 3.93 g, 5h). Rome mint.
CNG Feature Auction 114
Lot: 604. Estimated: $ 500
Roman Republican, Silver
Sold For $ 1 300. This amount does not include the buyer's fee.
C. Considius Nonianus. 56 BC. AR Denarius (17.5mm, 3.93 g, 5h). Rome mint. Laureate and draped bust of Venus Erycina right, wearing stephane / Temple on summit of rocky mountain surrounded by wall with towers on each side and gate in center; ERVC above gate. Crawford 424/1; Sydenham 886; Considia 1a; RBW 1522. Toned with a hint of iridescence, some light porosity. Near EF.

From the Benito Collection. Ex CNG Inventory 776324 (July 2006).

Describing Mt. Eryx and its temple complex, the Greek historian Polybius of Megalopolis (World History, 1.55) writes: On its summit, which is flat, stands the temple of Venus Erycina, which is indisputably the first in wealth and general magnificence of all the Sicilian holy places. The city extends along the hill under the actual summit, the ascent to it being very long and steep on all sides.

The final winners of all CNG Feature Auction 114 lots will be determined during the live online sale that will be held on 13-14 May 2020. This lot is in Session 2, which begins 13 May 2020 at 2 PM ET.

UPDATE: As the CNG staff and many of our clients remain under social distancing and other restrictions due to the COVID-19 pandemic, CNG 114 will be held as an internet only auction. The sale will take place as scheduled on 13-14 May 2020.

Winning bids are subject to a 20% buyer's fee for bids placed on this website and 22.50% for all others.

We recognize that our users may have various Internet Browsers and Operating Systems. We like our visitors to have the best possible experience when using our bidding platform. However, we do recognize that it is impossible to develop applications that work identically, efficiently and effectively on all web browsers The CNG bidding platform supports Mozilla Firefox (version 60+) and Chrome (version 67+).