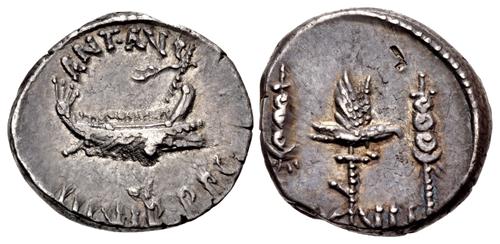 The Triumvirs. Mark Antony. Autumn 32-spring 31 BC. AR Denarius (16.5mm, 3.67 g, 5h). Legionary issue. Patrae(?) mint.
CNG Feature Auction 114
Lot: 682. Estimated: $ 500
Roman Republican, Silver
Sold For $ 1 500. This amount does not include the buyer's fee.
The Triumvirs. Mark Antony. Autumn 32-spring 31 BC. AR Denarius (16.5mm, 3.67 g, 5h). Legionary issue. Patrae(?) mint. Praetorian galley right / Aquila between two signa; LEG VII across lower field. Crawford 544/20; CRI 357; Sydenham 1224; RSC 34; RBW 1842. Attractive iridescent toning. VF. Thick, compact flan.

From the Jonathan P. Rosen Collection. Ex Andrew McCabe Collection (Classical Numismatic Group Electronic Auction 411, 13 December 2017), lot 376; RBW Collection (Numismatica Ars Classica 63, 17 May 2012), lot 591 (purchased by RBW from Frank L. Kovacs, 29 April 1994).

Andrew McCabe's comment on this coin: "This is an important and rare unpublished variety of the usual legionary type with a compact, very thick flan, and a small short galley in high relief, yet with an unusually prominent staff and flag that flutters across the upper field. The manufacture of the coin, which appears to be in excellent silver, is quite unlike that of the vast proportion of legionary denarii, yet it is unmistakably an official production. Whilst on the face of it, it is merely an unusual style from a celator who engraved few dies. But when combined with the metal and morphology, I can only explain this as being from a different mint location; perhaps part of a preliminary issue, or a post-Actium issue by remnants of the Antonine army. I have compared this coin with about a thousand online examples. The short galley with prominent staff and flag on a thick flan matches no other coin. Important."

The final winners of all CNG Feature Auction 114 lots will be determined during the live online sale that will be held on 13-14 May 2020. This lot is in Session 2, which begins 13 May 2020 at 2 PM ET.

UPDATE: As the CNG staff and many of our clients remain under social distancing and other restrictions due to the COVID-19 pandemic, CNG 114 will be held as an internet only auction. The sale will take place as scheduled on 13-14 May 2020.

Winning bids are subject to a 20% buyer's fee for bids placed on this website and 22.50% for all others.

We recognize that our users may have various Internet Browsers and Operating Systems. We like our visitors to have the best possible experience when using our bidding platform. However, we do recognize that it is impossible to develop applications that work identically, efficiently and effectively on all web browsers The CNG bidding platform supports Mozilla Firefox (version 60+) and Chrome (version 67+).