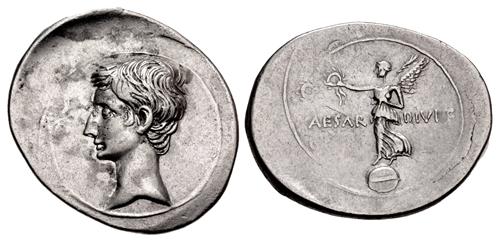 The Triumvirs. Octavian. Autumn 31-summer 30 BC. AR Denarius (23.5mm, 3.85 g, 4h). Italian (Rome?) mint.
CNG Feature Auction 114
Lot: 709. Estimated: $ 1 000
Roman Republican, Silver
Sold For $ 600. This amount does not include the buyer's fee.
The Triumvirs. Octavian. Autumn 31-summer 30 BC. AR Denarius (23.5mm, 3.85 g, 4h). Italian (Rome?) mint. Bare head of Octavian left / Victory standing left on globe, holding wreath and palm frond. CRI 407; RIC I 254b; RSC 64. Lightly toned, reverse slightly double struck. Good VF. Struck on a very broad flan.

From the John L. Cowan Collection. Ex Classical Numismatic Group 84 (5 May 2010), lot 957.

Following his victory at Actium, Octavian ordered a golden statue of Victory, standing on a globe and holding a wreath and palm frond, to be set up on an altar in the Curia in Rome. This statue had been captured by the Romans from Pyrrhus in 272 BC, and it assumed a somewhat tutelary mystique, protecting the Roman state from dissolution. In AD 382, the emperor Gratian ordered its removal. Two years later, the senator and orator Symmachus urged Valentinian II to replace it, a request that was met with stiff opposition from the bishop of Milan, Ambrose. Though it was briefly returned to its place by the usurper Eugenius, it was again removed following his defeat. Petitions to Theodosius I for its subsequent replacement were refused, on the grounds that the once-important symbol of the gods' blessing on the Roman Empire was now nothing more than a piece of paganism.

The final winners of all CNG Feature Auction 114 lots will be determined during the live online sale that will be held on 13-14 May 2020. This lot is in Session 2, which begins 13 May 2020 at 2 PM ET.

UPDATE: As the CNG staff and many of our clients remain under social distancing and other restrictions due to the COVID-19 pandemic, CNG 114 will be held as an internet only auction. The sale will take place as scheduled on 13-14 May 2020.

Winning bids are subject to a 20% buyer's fee for bids placed on this website and 22.50% for all others.

We recognize that our users may have various Internet Browsers and Operating Systems. We like our visitors to have the best possible experience when using our bidding platform. However, we do recognize that it is impossible to develop applications that work identically, efficiently and effectively on all web browsers The CNG bidding platform supports Mozilla Firefox (version 60+) and Chrome (version 67+).