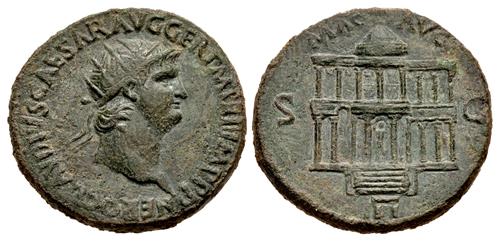 Nero. AD 54-68. Æ Dupondius (28.5mm, 15.20 g, 6h). Rome mint. Struck circa AD 64.
CNG Feature Auction 114
Lot: 763. Estimated: $ 1 000
Roman Imperial, Bronze
Sold For $ 1 500. This amount does not include the buyer's fee.
Nero. AD 54-68. Æ Dupondius (28.5mm, 15.20 g, 6h). Rome mint. Struck circa AD 64. Radiate head right / Façade of the Macellum Magnum: statue standing facing on base within cylindrical tetrastyle entrance set on tiered base, upper tristyle story surmounted by ornate conical dome; two-story distyle porch on left, two-story tristyle porch on right. RIC I 187; WCN 197. Green patina, lightly smoothed. Good VF. Well struck reverse.

The Macellum Magnum was Nero's great provision-market, probably dating from AD 59. This magnificent structure, originally occupying the middle of a square lined with porticoes and shops, was located on the Caelian Hill. It survived in its original state until the late 4th century, when its dilapidated condition necessitated a major reconstruction. During the turbulent 5th century the building again fell into partial ruin and in the latter part of the century it was transformed under Pope Simplicius (468-482) into the church of S. Stefano Rotondo.

The final winners of all CNG Feature Auction 114 lots will be determined during the live online sale that will be held on 13-14 May 2020. This lot is in Session 3, which begins 14 May 2020 at 9 AM ET.

UPDATE: As the CNG staff and many of our clients remain under social distancing and other restrictions due to the COVID-19 pandemic, CNG 114 will be held as an internet only auction. The sale will take place as scheduled on 13-14 May 2020.

Winning bids are subject to a 20% buyer's fee for bids placed on this website and 22.50% for all others.

We recognize that our users may have various Internet Browsers and Operating Systems. We like our visitors to have the best possible experience when using our bidding platform. However, we do recognize that it is impossible to develop applications that work identically, efficiently and effectively on all web browsers The CNG bidding platform supports Mozilla Firefox (version 60+) and Chrome (version 67+).