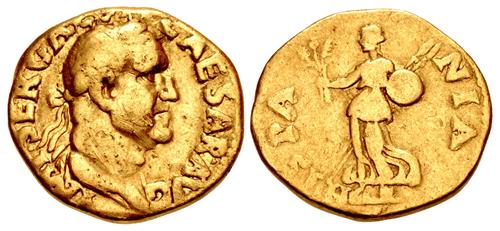 Galba. AD 68-69. AV Aureus (18mm, 6.96 g, 6h). Rome mint. Struck circa July AD 68-January AD 69.
CNG Feature Auction 114
Lot: 767. Estimated: $ 5 000
Roman Imperial, Gold
Sold For $ 6 000. This amount does not include the buyer's fee.
Galba. AD 68-69. AV Aureus (18mm, 6.96 g, 6h). Rome mint. Struck circa July AD 68-January AD 69. IMP • SER GALBA CAESAR • AVG, laureate and draped bust right / HISPA NIA, Hispania, draped, advancing left, holding poppy and two stalks of grain in right hand and round shield and two transverse spears in left. RIC I 192; Calicó 480a (same dies as illustration); BMCRE p. 311, note †; BN –; Biaggi –; Jameson –; Mazzini –; Triton IV, lot 480 (same dies). Scuffs, scratches, and contact marks on obverse. Fine. Extremely rare.

From the John L. Cowan Collection, purchased from Mike Vosper, 3 April 2014.

Both RIC and BMCRE refer to the only other example of this extremely rare variety, the specimen which sold in Triton IV, lot 480 and subsequently in Numismatica Ars Classica 41, lot 54 (hammer 290,000 CHF), where, in both auctions, it was described as unique and apparently unique, respectively. This is perhaps the second known example.

The final winners of all CNG Feature Auction 114 lots will be determined during the live online sale that will be held on 13-14 May 2020. This lot is in Session 3, which begins 14 May 2020 at 9 AM ET.

UPDATE: As the CNG staff and many of our clients remain under social distancing and other restrictions due to the COVID-19 pandemic, CNG 114 will be held as an internet only auction. The sale will take place as scheduled on 13-14 May 2020.

Winning bids are subject to a 20% buyer's fee for bids placed on this website and 22.50% for all others.

We recognize that our users may have various Internet Browsers and Operating Systems. We like our visitors to have the best possible experience when using our bidding platform. However, we do recognize that it is impossible to develop applications that work identically, efficiently and effectively on all web browsers The CNG bidding platform supports Mozilla Firefox (version 60+) and Chrome (version 67+).