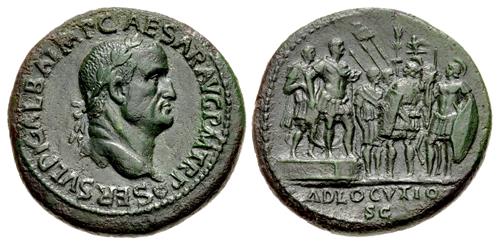 Galba. AD 68-69. Æ Sestertius (35mm, 25.47 g, 6h). Rome mint, 7th officina. Struck circa December AD 68.
CNG Feature Auction 114
Lot: 774. Estimated: $ 30 000
Roman Imperial, 360 Photo, Bronze
Sold For $ 37 500. This amount does not include the buyer's fee.
Galba. AD 68-69. Æ Sestertius (35mm, 25.47 g, 6h). Rome mint, 7th officina. Struck circa December AD 68. SER SVLPI GALBA IMP CAESAR AVG P M TR P, laureate head right, globe at point of neck / ADLOCVTIO/ S C in two lines in exergue, Galba, bareheaded in military dress, standing right on low platform on left, haranguing troops; to left on platform is an officer also standing right; to right on ground line, two soldiers standing left, the one in front holding oblong shield and signum, the one behind an oblong shield and spear; between them are seen the head and front legs of a horse; in the background are two soldiers standing right, carrying two spears and vexillum; to far right, an aquila. RIC I 463; ACG 365 (A122/P – [unlisted rev. die]); cf. BMCRE 249-51; BN 235 var. (bust type). Green patina. Near EF. An amazing reverse composition. Among the finest known.

By AD 68, Servius Sulpicius Galba had governed Hispania for nearly eight years with a single Roman legion, VI Victrix, under his command. In April of that year, with Nero's regime crumbling, Galba appeared before his soldiers and proclaimed himself a vir militaris representing the Senate and People of Rome, marking his break with Nero and taking the first steps that would lead to his brief, chaotic reign as emperor. The scene is reproduced on this remarkable sestertius, an artistic tour de force, struck at the mint of Rome in December of 68. Although Adlocutio scenes depicting the emperor addressing soldiers had appeared on Roman coins before, notably on sestertii of Caligula and Nero, this piece represents a sharp departure from prevailing artistic norms. The four visible soldiers and a single horse are arrayed, not as identical units in ordered ranks, but in a variety of individualized postures and kits, along with standards, banners and weaponry, all layered to to suggest a huge mass of restless Roman soldiery. Galba faces them on a raised platform dressed as a soldier himself, his facial features distinctive despite the small scale. The composition has been aptly termed a masterpiece of numismatic art that has seldom, if ever, been equaled in the centuries since.

The final winners of all CNG Feature Auction 114 lots will be determined during the live online sale that will be held on 13-14 May 2020. This lot is in Session 3, which begins 14 May 2020 at 9 AM ET.

UPDATE: As the CNG staff and many of our clients remain under social distancing and other restrictions due to the COVID-19 pandemic, CNG 114 will be held as an internet only auction. The sale will take place as scheduled on 13-14 May 2020.

Winning bids are subject to a 20% buyer's fee for bids placed on this website and 22.50% for all others.

We recognize that our users may have various Internet Browsers and Operating Systems. We like our visitors to have the best possible experience when using our bidding platform. However, we do recognize that it is impossible to develop applications that work identically, efficiently and effectively on all web browsers The CNG bidding platform supports Mozilla Firefox (version 60+) and Chrome (version 67+).