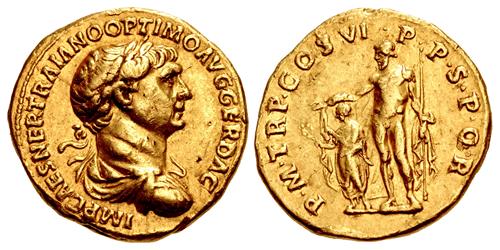 Trajan. AD 98-117. AV Aureus (19.5mm, 7.21 g, 6h). Rome mint. Struck winter AD 114-spring AD 115.
CNG Feature Auction 114
Lot: 838. Estimated: $ 5 000
Roman Imperial, Gold
Sold For $ 4 250. This amount does not include the buyer's fee.
Trajan. AD 98-117. AV Aureus (19.5mm, 7.21 g, 6h). Rome mint. Struck winter AD 114-spring AD 115. IMP CAES NER TRAIANO OPTIMO AVG GER DAC, laureate, draped, and cuirassed bust right / P • M • TR P • COS • VI • P • P • S • P • Q • R, Jupiter, naked except for cloak on right and left arms, standing left, holding thunderbolt over Trajan in right hand and straight scepter in left; to left, Trajan, togate, standing left, holding up branch in right hand. RIC II 336; Beckmann, Trajan, Group D (unlisted dies); Woytek 512f; Strack 229β; Calicó 1065; BMCRE 533; BN 814-6; Biaggi 515; Mazzini 268v.. Some surface and edge marks. VF.

From the Provence Collection.


The final winners of all CNG Feature Auction 114 lots will be determined during the live online sale that will be held on 13-14 May 2020. This lot is in Session 3, which begins 14 May 2020 at 9 AM ET.

UPDATE: As the CNG staff and many of our clients remain under social distancing and other restrictions due to the COVID-19 pandemic, CNG 114 will be held as an internet only auction. The sale will take place as scheduled on 13-14 May 2020.

Winning bids are subject to a 20% buyer's fee for bids placed on this website and 22.50% for all others.

We recognize that our users may have various Internet Browsers and Operating Systems. We like our visitors to have the best possible experience when using our bidding platform. However, we do recognize that it is impossible to develop applications that work identically, efficiently and effectively on all web browsers The CNG bidding platform supports Mozilla Firefox (version 60+) and Chrome (version 67+).