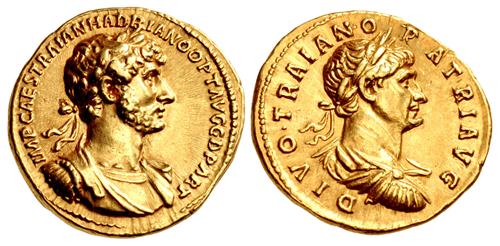 Hadrian, with Divus Trajan. AD 117-138. AV Aureus (19mm, 7.29 g, 6h). Rome mint. Struck August-December AD 117.
CNG Feature Auction 114
Lot: 844. Estimated: $ 50 000
Roman Imperial, 360 Photo, Gold
Sold For $ 75 000. This amount does not include the buyer's fee.
Hadrian, with Divus Trajan. AD 117-138. AV Aureus (19mm, 7.29 g, 6h). Rome mint. Struck August-December AD 117. IMP CAES TRAIAN HADRIANO OPT ΛVG G D PΛRT, laureate and cuirassed bust of Hadrian right, slight drapery, exposed upper part of breastplate visible, wearing balteus strap / DIVO • TRAIANO PATRI AVG, laureate, draped, and cuirassed bust of Divus Trajan right. RIC II.3 28 (same dies as illustration); Strack 10η; Calicó 1412 (same dies as illustration); BMCRE 44 (same dies); Biaggi 564 (same dies); Jameson –; Mazzini 2 (same dies). Lustrous. Choice EF. Two spectacular portraits in high relief, perfectly struck on a broad flan.

From the Jonathan P. Rosen Collection. Ex Numismatica Ars Classica 97 (12 December 2016), lot 119 (hammer 75,000 CHF); Palombo 13 (13 December 2014), lot 59 (hammer 130,000 CHF).

Publius Aelius Hadrianus, born to an aristocratic family in Roman Spain, lost his biological parents by AD 86 and became the ward of the future emperor Trajan, another Spaniard. As a young man, Hadrian began a career in the Roman government and military, and in about AD 100 married Sabina, a favored great-niece of Trajan. He also cultivated the friendship of Trajan's wife Plotina. Though widely regarded as a favorite for the succession, Hadrian was not formally named Caesar until Trajan fell fatally ill in Cilicia while returning from his great eastern campaign. It was not a universally popular choice and rumors immediately spread that Hadrian's adoption was stage-managed by Plotina after Trajan had already died. Hadrian, serving as governor of Syria, took immediate action to secure the throne, inducing the eastern legions to acclaim him as emperor by means of a hefty bonus. He then wrote to the Senate declaring his accession a fait accompli, but requesting his formal designation as emperor along with the deification of Trajan. With no real alternative, both requests were readily granted. This spectacular aureus, pairing Hadrian's portrait with that of the newly deified Trajan, was struck in Rome during the first months of the reign to mark both the accession of a new emperor and the creation of a new god, who is pointedly named as his father (DIVO TRAIANO PATRI AVG).

The final winners of all CNG Feature Auction 114 lots will be determined during the live online sale that will be held on 13-14 May 2020. This lot is in Session 3, which begins 14 May 2020 at 9 AM ET.

UPDATE: As the CNG staff and many of our clients remain under social distancing and other restrictions due to the COVID-19 pandemic, CNG 114 will be held as an internet only auction. The sale will take place as scheduled on 13-14 May 2020.

Winning bids are subject to a 20% buyer's fee for bids placed on this website and 22.50% for all others.

We recognize that our users may have various Internet Browsers and Operating Systems. We like our visitors to have the best possible experience when using our bidding platform. However, we do recognize that it is impossible to develop applications that work identically, efficiently and effectively on all web browsers The CNG bidding platform supports Mozilla Firefox (version 60+) and Chrome (version 67+).