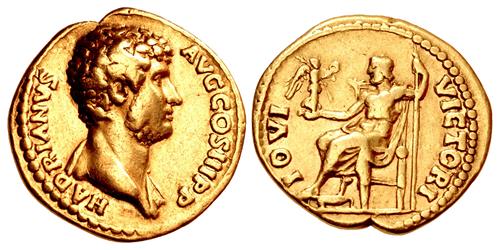 Hadrian. AD 117-138. AV Aureus (20mm, 6.98 g, 6h). Rome mint. Struck AD 136.
CNG Feature Auction 114
Lot: 879. Estimated: $ 5 000
Roman Imperial, Gold
Sold For $ 3 500. This amount does not include the buyer's fee.
Hadrian. AD 117-138. AV Aureus (20mm, 6.98 g, 6h). Rome mint. Struck AD 136. HADRIANVS AVG COS III P P, bareheaded bust right, slight drapery, with rejuvenated features / IOVI VICTORI, Jupiter, naked to waist, seated left on throne, holding Victory on extended right hand and vertical scepter in left. RIC II.3 2209 (same dies as illustration); Beckmann, Gold (dies b15/I1); cf. Strack 246δο (no rejuvenated features); Calicó 1276a (same dies as illustration); cf. BMCRE 658; cf. Biaggi 616-7; Mazzini 863* (same dies). Near VF. Rare.

From the San Vicente Collection, purchased from Dr. Arnold Saslow, June 1992.

This unusual portrait type for Hadrian, which depicts him as a young man in his early 20s with a whispy mustache and beard, has been the subject of much speculation and dispute. Similar marble portrait busts were long identified only as a "young Roman" and were often ascribed to the Renaissance period. Only in 1954 was an indisputably ancient bust of this type excavated from the ruins of Hadrian's Villa in Tivoli. Hadrian was 42 when he became emperor and his early coinage reflects his mature appearance. Paradoxically, the youthful coin portrait seems to date from quite late in his reign, when he was entering his 60s. One theory holds that the "rejuvenated" portrait reflects Hadrian's belief that he had somehow been "renatus," or reborn, after the death of his lover Antinoüs, or perhaps as a result of his participation in religious mystery rites. Another possibility is that the portrait type is actually posthumous and was struck by Antoninus Pius as part of his campaign to have Hadrian deified.

The final winners of all CNG Feature Auction 114 lots will be determined during the live online sale that will be held on 13-14 May 2020. This lot is in Session 3, which begins 14 May 2020 at 9 AM ET.

UPDATE: As the CNG staff and many of our clients remain under social distancing and other restrictions due to the COVID-19 pandemic, CNG 114 will be held as an internet only auction. The sale will take place as scheduled on 13-14 May 2020.

Winning bids are subject to a 20% buyer's fee for bids placed on this website and 22.50% for all others.

We recognize that our users may have various Internet Browsers and Operating Systems. We like our visitors to have the best possible experience when using our bidding platform. However, we do recognize that it is impossible to develop applications that work identically, efficiently and effectively on all web browsers The CNG bidding platform supports Mozilla Firefox (version 60+) and Chrome (version 67+).