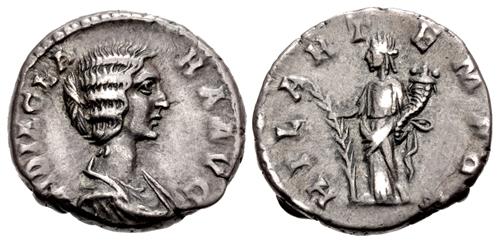 Didia Clara. Augusta, AD 193. AR Denarius (17mm, 3.30 g, 12h). Rome mint. Struck under Didius Julianus.
CNG Feature Auction 114
Lot: 921. Estimated: $ 1 500
Roman Imperial, Silver
Sold For $ 2 000. This amount does not include the buyer's fee.
Didia Clara. Augusta, AD 193. AR Denarius (17mm, 3.30 g, 12h). Rome mint. Struck under Didius Julianus. DIDIA CLA RA AVG, draped bust right / HILAR T EMPOR, Hilaritas standing left, holding palm frond and cornucopia. RIC IV 10 (Didius Julianus); RSC 3. Deep old collection tone. VF.

Ex Phil Peck ("Morris") Collection (6 January 2019), lot 32146; Monetarium 43 (1 March 1985), lot 152; Münzen und Medaillen AG 66 (23 October 1984), lot 680.

Didia Clara, the daughter of the brief-reigning emperor Didius Julianus, was reputedly one of the most beautiful women in Rome (in which case, as the historian S. W. Stephenson notes drily, "her coins do her no justice"). After securing the throne via the infamous "auction of empire" by the Praetorian Guard, Julianus granted the title of Augusta to both his wife, Manlia Scantilla, and their daughter, Didia Clara. He also quickly had Clara married off to Sextus Cornelius Repentius, from an influential Senatorial family, who was then made Prefect of Rome and placed in charge of the city's garrison. However, Julianus reigned only 66 days and was murdered in the palace by his own Praetorians upon the approach of Septimius Severus, who the Senate proclaimed Augustus in his stead. Clara and Scantilla were spared but stripped of their titles and inheritance; Scantilla reportedly died shortly thereafter, while the fate of Didia Clara is unknown.

The final winners of all CNG Feature Auction 114 lots will be determined during the live online sale that will be held on 13-14 May 2020. This lot is in Session 3, which begins 14 May 2020 at 9 AM ET.

UPDATE: As the CNG staff and many of our clients remain under social distancing and other restrictions due to the COVID-19 pandemic, CNG 114 will be held as an internet only auction. The sale will take place as scheduled on 13-14 May 2020.

Winning bids are subject to a 20% buyer's fee for bids placed on this website and 22.50% for all others.

We recognize that our users may have various Internet Browsers and Operating Systems. We like our visitors to have the best possible experience when using our bidding platform. However, we do recognize that it is impossible to develop applications that work identically, efficiently and effectively on all web browsers The CNG bidding platform supports Mozilla Firefox (version 60+) and Chrome (version 67+).