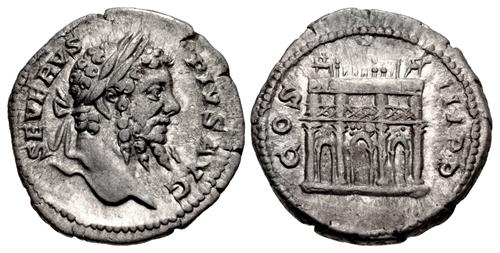 Septimius Severus. AD 193-211. AR Denarius (19mm, 3.44 g, 6h). Rome mint. Struck AD 203.
CNG Feature Auction 114
Lot: 934. Estimated: $ 2 000
Roman Imperial, Silver
Sold For $ 3 500. This amount does not include the buyer's fee.
Septimius Severus. AD 193-211. AR Denarius (19mm, 3.44 g, 6h). Rome mint. Struck AD 203. SEVERVS PIVS AVG, laureate head right / COS III P P, Arch of Septimius Severus: arch consisting of large central bay and two smaller flanking bays divided by composite columns supporting a large attic, consisting of central inscription tablet flanked by panels each containing two signa; above, facing triumphal quadriga flanked by human figures standing facing, additional figure on horseback on either side. RIC IV 259; RSC 104; BMCRE 320. Light porosity. Good VF. Of historical importance and one of the great architectural types in the Roman imperial series.

On the original arch, located in the Forum Romanum, the attic inscription reads: IMP • CAES • LVCIO • SEPTIMIO • M • FIL • SEVERO • PIO • PERTINACI • AVG • PATRI • PATRIAE • PARTHICO • ARABICO • ET/PARTHICO • ADIABENICO • PONTIFIC • MAXIMO • TRIBVNIC • POTEST • XI • IMP • XI • COS • III • PROCOS • ET/IMP • CAES • M • AVRELIO • L • FIL • ANTONINO • AVG • PIO • FELICI • TRIBVNIC • POTEST • VI • COS • PROCOS • P • P/[[ET P SEPTIMIO L FIL GETAE NOBILLISI]] OPTIMIS • FORTISSIMISQVE • PRINCIBVS •/OB • REM • PVBLICAM • RESTITVTAM • IMPERIVMQVE • POPVLI • ROMANI • PROPOGATVM/INSIGNIBVS • VIRTVTIBVS • EORVM • DOMI • FORISQVE • S • P • Q • R. The line ET P SEPTIMIO L FIL GETAE NOBILLISI was removed from the inscription following Geta's assasination in AD 212, although it is still possible to make it out, since the original inscription was composed of gilded bronze letters which were inserted into the stone with pins.

The final winners of all CNG Feature Auction 114 lots will be determined during the live online sale that will be held on 13-14 May 2020. This lot is in Session 3, which begins 14 May 2020 at 9 AM ET.

UPDATE: As the CNG staff and many of our clients remain under social distancing and other restrictions due to the COVID-19 pandemic, CNG 114 will be held as an internet only auction. The sale will take place as scheduled on 13-14 May 2020.

Winning bids are subject to a 20% buyer's fee for bids placed on this website and 22.50% for all others.

We recognize that our users may have various Internet Browsers and Operating Systems. We like our visitors to have the best possible experience when using our bidding platform. However, we do recognize that it is impossible to develop applications that work identically, efficiently and effectively on all web browsers The CNG bidding platform supports Mozilla Firefox (version 60+) and Chrome (version 67+).