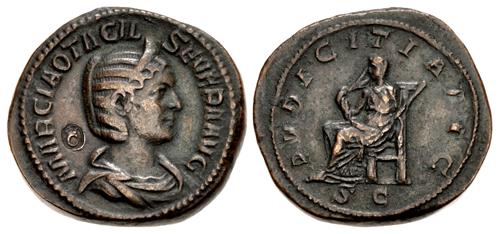 Otacilia Severa. Augusta, AD 244-249. Æ Sestertius (31mm, 23.09 g, 12h). Rome mint, 4th officina. 4th emission of Philip I, AD 245.
CNG Feature Auction 114
Lot: 965. Estimated: $ 500
Roman Imperial, Bronze
Sold For $ 1 500. This amount does not include the buyer's fee.
Otacilia Severa. Augusta, AD 244-249. Æ Sestertius (31mm, 23.09 g, 12h). Rome mint, 4th officina. 4th emission of Philip I, AD 245. Draped bust right, wearing stephane; counterstamp: crowned C / Pudicitia seated left, drawing veil and holding scepter. RIC IV 209a (Philip I); Banti 12. Dark green brown patina, countermark clear. VF.

Currently known on only three other specimens, the as yet unidentified crowned C countermark has been variously assigned over the years to the collections of King Charles I of England, Christian IV of Denmark, and Queen Christina of Sweden. Such desirable attributions, are however unlikely – Charles's well documented cipher was a crowned CR, Christian IV used a distinctive crowned C4, and Queen Christina's extensive collection, first published by Havercamp in 1742 (on whose plates no such countermarks are illustrated) is now housed in the Bibliothèque Nationale, where again, no such examples are recorded. The countermark itself is currently attested to only on imperial sestertii (the other examples being those of Vitellius, Trajan and Gordian I), with each example positioned in the same place, in the field behind the imperial bust. Although tempting to assign the countermark to such extensive and notable collections as those formed by royal households, it is perhaps more likely, especially considering its extreme rarity and instances of occurrence, that the crowned C countermark belongs instead to that of a smaller, far more specialised collector, the identity of whom is yet to be discovered.

The final winners of all CNG Feature Auction 114 lots will be determined during the live online sale that will be held on 13-14 May 2020. This lot is in Session 3, which begins 14 May 2020 at 9 AM ET.

UPDATE: As the CNG staff and many of our clients remain under social distancing and other restrictions due to the COVID-19 pandemic, CNG 114 will be held as an internet only auction. The sale will take place as scheduled on 13-14 May 2020.

Winning bids are subject to a 20% buyer's fee for bids placed on this website and 22.50% for all others.

We recognize that our users may have various Internet Browsers and Operating Systems. We like our visitors to have the best possible experience when using our bidding platform. However, we do recognize that it is impossible to develop applications that work identically, efficiently and effectively on all web browsers The CNG bidding platform supports Mozilla Firefox (version 60+) and Chrome (version 67+).