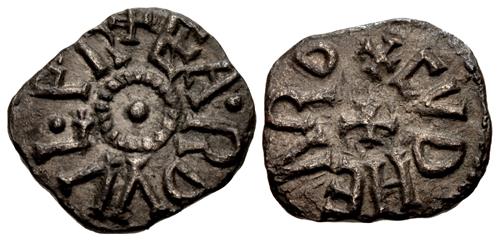 ANGLO-SAXON, Kings of Northumbria. Eardwulf. First reign, 796-806. AR Sceatt (14mm, 0.93 g, 9h). York mint; Cuthheard, moneyer.
CNG Feature Auction 114
Lot: 1245. Estimated: $ 7 500
British, Silver
Sold For $ 9 500. This amount does not include the buyer's fee.
ANGLO-SAXON, Kings of Northumbria. Eardwulf. First reign, 796-806. AR Sceatt (14mm, 0.93 g, 9h). York mint; Cuthheard, moneyer. + EA·RDVVL·F R, pellet in dotted circle / + CVDHEARD, cross pattée. Pirie, Guide 3.2a = E.J.E. Pirie, "Earduulf: a significant addition to the coinage of Northumbria" in BNJ 65 (1995), pl. 2, 12; Pirie, Guide 3.2b var. = M. Blackburn & A. Gillis, "A second coin of King Eardwulf of Northumbria and the attribution of the moneyer coins of King Ælfwald" in BNJ 67 (1997), pl. 24, 3 var. (rev. legend; same obv. die); Abramson 86.40; EMC 2009.0079 var. (same; same obv. die); North –; SCBC 858. Toned. VF. Extremely rare, none in CoinArchives.

From the James & Martha Robertson Collection. Ex Classical Numismatic Group 106 (13 September 2017), lot 1082 (hammer $17,000).

Eardwulf acceded to the Northumbrian throne in the tumultuous period following the assassination of Aethelred I in 796. Eardwulf had helped organize the murder of Aethelred in revenge for Aethelred's earlier, nearly successful, attempt on Eardwulf's life. Eardwulf's reign was characterized by conflict with Coenwulf of Mercia who gave asylum to his enemies. In the late eighth century, close ties existed between the Northumbrian and Frankish courts and it may have been that Eardwulf married an illegitimate daughter of Charlemagne. Eardwulf was deposed in 806 by the shadowy Aelfwald II and went on pilgrimage to Rome and visited the Emperor's court in Nijmegen. Frankish sources suggest he may have reclaimed his kingdom in circa 808 before being succeeded by his son Eanred, possibly around 810. No coins were known of Eardwulf before the Burton Fleming find in 1994 (EMC 1995.6001; Pirie, BNJ 1995, pp. 20-31). This is the only coin of Eardwulf to be offered for sale in a public auction.

The final winners of all CNG Feature Auction 114 lots will be determined during the live online sale that will be held on 13-14 May 2020. This lot is in Session 4, which begins 14 May 2020 at 2 PM ET.

UPDATE: As the CNG staff and many of our clients remain under social distancing and other restrictions due to the COVID-19 pandemic, CNG 114 will be held as an internet only auction. The sale will take place as scheduled on 13-14 May 2020.

Winning bids are subject to a 20% buyer's fee for bids placed on this website and 22.50% for all others.

We recognize that our users may have various Internet Browsers and Operating Systems. We like our visitors to have the best possible experience when using our bidding platform. However, we do recognize that it is impossible to develop applications that work identically, efficiently and effectively on all web browsers The CNG bidding platform supports Mozilla Firefox (version 60+) and Chrome (version 67+).