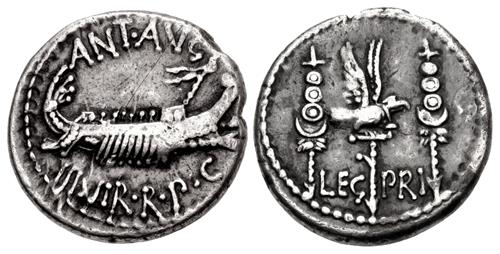 The Triumvirs. Mark Antony. Autumn 32-spring 31 BC. AR Denarius (17mm, 3.37 g, 9h). Tardani Counterfeit.
CNG Feature Auction 114
Lot: 1405. Estimated: $ 500
Miscellaneous, Silver
Sold For $ 1 600. This amount does not include the buyer's fee.
The Triumvirs. Mark Antony. Autumn 32-spring 31 BC. AR Denarius (17mm, 3.37 g, 9h). Tardani Counterfeit. Praetorian galley right / Aquila between two signa; LEG PRI across lower field. For prototype: cf. Crawford 544/13; cf. CRI 348; cf. Sydenham 1215; cf. RSC 26; RBW –. Toned, a few light scratches and marks. VF.

From the Jonathan P. Rosen Collection. Ex Lanz 161 (7 December 2015), lot 214 (as genuine, realized 6250 Euros).

The counterfeiter Tardani was prolific in Europe during the late 19th to early 20th centuries. Many of the dies Tardani created are now housed in the Smithsonian, and Frank L. Kovacs, the noted dealer and scholar from Corte Madera, California, is one of the few numismatists to have studied these dies.

Frank notes that "Tardani made his Leg Pri from 'scratch' by removing the legion number from a positive [electrotype copy] – creating a negative [electrotype copy] into which he engraved the desired number, and then striking the fakes. He kept an archive of positives from which he could then make as many transfer dies as he needed. He probably also created the LEG XXIV–XXX  (Syd. 1247-1253), which Sear listed as 'doubtful' in Roman Silver Coins."

The final winners of all CNG Feature Auction 114 lots will be determined during the live online sale that will be held on 13-14 May 2020. This lot is in Session 4, which begins 14 May 2020 at 2 PM ET.

UPDATE: As the CNG staff and many of our clients remain under social distancing and other restrictions due to the COVID-19 pandemic, CNG 114 will be held as an internet only auction. The sale will take place as scheduled on 13-14 May 2020.

Winning bids are subject to a 20% buyer's fee for bids placed on this website and 22.50% for all others.

We recognize that our users may have various Internet Browsers and Operating Systems. We like our visitors to have the best possible experience when using our bidding platform. However, we do recognize that it is impossible to develop applications that work identically, efficiently and effectively on all web browsers The CNG bidding platform supports Mozilla Firefox (version 60+) and Chrome (version 67+).