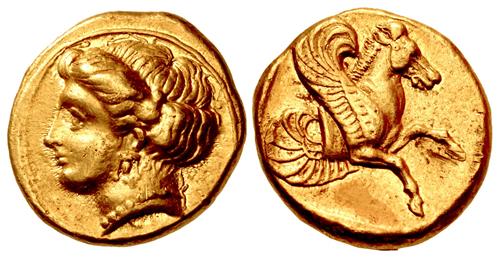 MYSIA, Lampsakos. Circa 394-350 BC. AV Stater (16.5mm, 8.39 g, 11h).
Triton XXIII – Session One – Greek Coinage Part I
Lot: 318. Estimated: $ 15 000
Greek, Gold
Sold For $ 12 000. This amount does not include the buyer's fee.
MYSIA, Lampsakos. Circa 394-350 BC. AV Stater (16.5mm, 8.39 g, 11h). Head of female left, wearing triple-pendant earring and necklace / Forepart of Pegasos flying right within shallow incuse square. Baldwin, Lampsakos 27; SNG BN 1156 = Traité II 2565 (same obv. die); G.F. Hill, "Greek coins acquired by the British Museum in 1919," NC 1920, p. 111 and pl. XIV, 6 = Weber 5102 (same obv. die). Underlying luster. Good VF. Struck from artistic dies. Extremely rare, one of only three known, the other two in museum collections (the BN and BM).

From the Jonathan P. Rosen Collection. Ex Roma XIII (23 March 2017), lot 291; Triton X (9 January 2007), lot 273.

Both the BN and BM specimens are struck from the same die pair. The present coin adds a new reverse die to the corpus.

Lampsakos depended upon the traffic between the Aegean and the Black Sea, and possessed an excellent harbor in a strategic position guarding the eastern entrance to the Hellespont opposite Gallipolis. The city was known to have existed under the name of Pityusa before it received colonists from the Ionian cities of Phocaea and Miletus (Strabo xiii, p. 589). In the sixth and fifth centuries Lampsakos passed successively under Lydian, Persian, Athenian, and Spartan control. Its tribute of twelve talents, as a member of the Delian League, and production of electrum staters in the fifth century, attest to its commercial wealth. Following the example and standard of the Persic daric, Lampsakos was the first Greek city to make regular issues of gold coinage, which enjoyed an international circulation from Sicily to the Black Sea. As at Kyzikos, the quality of engraving was very high, and types changed frequently: about forty types were produced in a period of about sixty years. Many of the types contemporary with the present coin featured Chthonic deities, those whose powers came from the earth, such as Demeter and Dionysos. The female on the obverse of this coin, though, does not have any characteristics that identify her as a particular deity, and she may simply be the representation of a nymph in the local folklore.

The final winners of all Triton XXIII lots will be determined at the live public sale that will be held on 14-15 January 2020. Triton XXIII – Session One – Greek Coinage Part I will be held Tuesday morning, 14 January 2020 beginning at 9:00 AM ET.

Winning bids are subject to a 20% buyer's fee for bids placed on this website and in person at the public auction, 22.50% for all others.