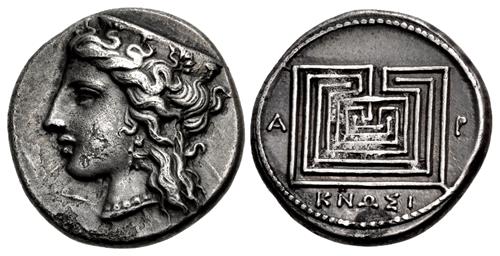 CRETE, Knossos. Circa 300-270 BC. AR Drachm (18mm, 5.14 g, 5h).
Triton XXIII – Session One – Greek Coinage Part I
Lot: 279. Estimated: $ 10 000
Greek, Silver
Sold For $ 19 000. This amount does not include the buyer's fee.
CRETE, Knossos. Circa 300-270 BC. AR Drachm (18mm, 5.14 g, 5h). Head of Hera left, wearing ornamented stephanos, triple-pendant earring, and necklace / Labyrinth; A-P flanking, KNΩΣI below. Svoronos, Numismatique 70; SNG Copenhagen –; SNG Lockett 2529; BMC 26–7; Boutin 155; Dewing 1987–8; Evans 1597–9; de Luynes 2334; Traeger –. Toned, minor porosity on obverse, a little die rust on reverse. Near EF. Well centered and struck; clearly detailed labyrinth.

From the Ancient Miniature Art Collection.

The ancient city of Knossos, the remains of which were excavated by Sir Arthur Evans, beginning in 1900, was founded in the Minoan Period (circa 1700-1400 BC) as a large and complex palace-city. Although the exact origin of the word "labyrinth, as well as its location, remains open to scholarly conjecture, the intricate maze of rooms and interior courtyards of this palace-city contributed to the later Greek use of the word to describe a maze and the source of the events connected with it to Crete.

According to the Greek myth, Minos was the first king of Crete. Although he gave the island its first constitution, ordered the construction of the palace at Knossos, and was the first to build a navy, he was a cruel tyrant and imperialist. One of his subject cities was Athens. He demanded from its citizens as payment every nine years seven youths and seven virgins. Minos would feed them then to the Minotaur, a half-man, half-bull who was held in the Labyrinth, a large walled maze. To stop this brutal tribute, the Athenian hero, Theseus, had himself sent as part of the required tribute. With the assistance of Ariadne, the daughter of Minos, Theseus was able to navigate the Labyrinth successfully and kill the Minotaur.

The final winners of all Triton XXIII lots will be determined at the live public sale that will be held on 14-15 January 2020. Triton XXIII – Session One – Greek Coinage Part I will be held Tuesday morning, 14 January 2020 beginning at 9:00 AM ET.

Winning bids are subject to a 20% buyer's fee for bids placed on this website and in person at the public auction, 22.50% for all others.